===================================================
Please see temporary – Parish Secretary Advert' page for details of this new job role. Closing date 30th September
===================================================
For live streaming from Holy Cross use the link below
http://mcnmedia.tv/camera/holy-cross-roman-catholic-church-carshalton
===================================================Changes to Covid restrictions within Holy Cross
The wish of the Catholic Bishops' Conference of England & Wales is to enable more of the Faithful to be able to attend Mass safely, but this must be done observing sensible precautions in the light of local circumstances.  Whilst the rate of Covid infection is still rising in Sutton, the level of vaccinations is also high, so from Saturday 04 September 2021 the following precautions will apply until further notice.
 The number of persons allowed in the Nave will increase from 80 to 140.  All of the 9 rows of benches towards the back of the Nave are now open and can be occupied by up to 6 persons, or one family group if more than 6, excluding babes in arms.
 Of the 8 rows of benches at the front of the Nave, only 4 alternate rows will be open, and these to a maximum of 4 persons.  This is to enable clear social-distancing for those members of the congregation who are vulnerable, or otherwise concerned about social-distancing.  If you are in a group of more than 4 persons, please do not use the benches towards the front of the Nave.
 The 'Please Leave a Space' cards are available in the porch for anyone who wishes to sit on their own.
 Track & Trace will be via the NHS App only.
 Singing remains restricted to the Choirs only until further notice.
 Please observe the following precautions at all times:
Please use the hand sanitiser provided on entering the Church and everyone over the age of 10, please wear a mask over nose and mouth to protect other members of the congregation from inadvertent infection.
Please continue to observe social distancing when approaching the Sanctuary to receive Holy Communion and co-operate with the directions of the Mass Stewards.
Please be prepared to assist with the sanitising of surfaces after Mass if needed, or otherwise please leave the Church promptly at the end of Mass.
Please scan the NHS QR Code in the Porch for Track & Trace purposes.
Please go to the 'Update Page' and scroll down for a link to the Catholic Bishops' Conferenc guidance on the next steps regarding Covid.
(The Update page will contain any further advice as we receive it.)
———————————————————————————-
Streaming is available all the time.
Let's pray for each other, for everyone in Carshalton, and for all who are affected by the corona virus – including our NHS workers.
Prayer for Spiritual Communion
My Jesus, I believe that you are present in the Most Holy Sacrament.
I love you above all things and I desire to receive you in my soul.
Since I cannot at this moment receive you sacramentally,
Come at least spiritually into my heart.
I embrace you as if you were already there
And unite myself wholly to you.
Never permit me to be separated from you.
Amen.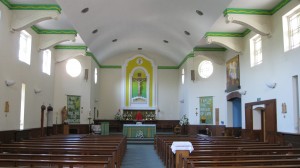 Welcome to our parish community.
Each parish you have lived in must have been a new experience, a way of sharing your faith in fellowship. Every community is constantly being renewed – newcomers take the place of others who have gone and bring with them a new impetus and a fresh enthusiasm. We  need you and we realise that the contribution you can make is unique.
With the help of these pages we hope  you can see where you might fit in. Do let us know how we can contact you. We hope we can help you to settle in among us.
We are first of all a Eucharistic community, centred on Christ, without whom we will get nowhere. We all of us have something to share with each other (and pass on), in order to discover ever more about our faith. We too are evangelisers: Christ is Saviour of everyone.
Everyone is welcome
————————————————————————————-
These are difficult times when we cannot make our weekly donation to Holy Cross. If you feel you would like to continue to do so, below are details of the churches bank account for online donations. 
Nat West:   Account number 11064943  :  Sort code 60 22 20
Acc. name : RCAS Holy Cross Carshalton
===================================================
Journey in Faith 2021–2022 (Rite of Christian Initiation for Adults)Sessions begin with an introductory evening and refreshments on THURSDAY 23rd SEPTEMBER at 7:45pm in the parish centre
==================================================
Anone wishing to help with the Afghan refugees – please see the Newsletter
===================================================
We are pleased to announce that the coffee mornings after the 10am Mass on Tuesdays and Thursday are back.
Please come along and support your Parish.
======================================================================================================
Any queries regarding Preparation for Sacraments – please use the contact form
————————————————————————————-
Baptism Preparation enquiries – see under 'Sacrament' page  or use the link 
————————————————————————————
First Holy Communion  – for an update on FHC please go to the 'Sacrament' page 
To contact the First Holy Communion team:
————————————————————————————-
Confirmation – see under 'Sacrament' page  
To contact the First Holy Communion team:
————————————————————————————(n.b. If you are expecting an email from any of the above please check your 'spam' folder if it does not arrive. – Webmaster)