For live streaming from Holy Cross use the link below
http://www.mcnmedia.tv/camera/holy-cross-roman-catholic-church-carshalton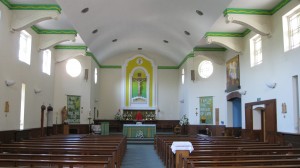 Welcome to our parish community.
Each parish you have lived in must have been a new experience, a way of sharing your faith in fellowship. Every community is constantly being renewed – newcomers take the place of others who have gone and bring with them a new impetus and a fresh enthusiasm.
We  need you and we realise that the contribution you can make is unique.
With the help of these pages we hope  you can see where you might fit in. Do let us know how we can contact you. We hope we can help you to settle in among us.
A message from Father Paul:
We are first of all a Eucharistic community, centred on Christ, without whom we will get nowhere. We all of us have something to share with each other (and pass on), in order to discover ever more about our faith. We too are evangelisers: Christ is Saviour of everyone.
Everyone is welcome.
===================================================
An extra period of Adoration is now available every Tuesday between 6-7pm. Drop in for as long as you wish.
===================================================
RCIA  – Journey in Faith 2019 – 2020
 These weekly sessions are for people who are interested in learning about the Catholic faith and who may decide to become a Catholic.
Other parishioners who would like to join us and perhaps refresh their own faith are also very welcome.
Sessions begin with an introductory cheese and wine evening on
THURSDAY 19 SEPTEMBER at 8 pm in the parish centre.
If you are interested and would like to find out more, please come along and feel free to bring friends and family with you.  Please tick the poster in the church so that we have an idea of numbers or contact the Journey in Faith group via the parish website.
( Go to RCIA page for more details)