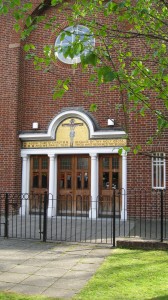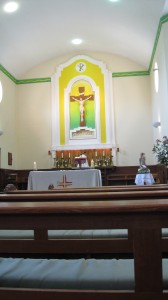 Holy Cross Catholic Church
46 North Street, Carshalton, Surrey, SM5 2JD
Parish Priest Fr. Henry Tiku Wenna
Resident Priest Fr. Philip Pak
Tel: 020 8647 0022
Email: carshalton@rcaos.org.uk
Go to mcnmedia.tv or follow the link on the Home page for live streaming 
Please see below and on the Home page for details of the next steps regards Covid.
Streaming is available all the time. Let us pray for each other, for everyone in Carshalton, and for all who are affected by the corona virus – including our NHS workers.
————————————————————————————
Bank details (for anyone wishing to make an online donation:)
NatWest:  Acc. name: RCAS Holy Cross Church, Carshalton
Account: 11064943; Sort code:  60 22 20
==================================================
26th SUNDAY IN OT
Sat. 25th   
18:30
Sun

26th

08:00
09:30
11:00
Jo Whitbread
18:30
Mon. 27th
08:00
Holy Souls
10:00
Eucharistic Service
Tue.

28th  

08:00
Maria Palha, RIP
10:00
Eucharistic Service
Wed.

29th    

08:00
Doris de Silva's Intention
10:00
Eucharistic Service
Thu.

30th  

08:00
Lou Robins, RIP
10:00
Eucharistic Service
Fri.

1st

08:00
12:00
Sat.

2nd

08:00
 
10:00
COVIT-19 GUIDELINE at HOLY CROSS: Currently the number of persons allowed in the Nave is 140: 6 people in each of the 9 rows of benches at the back of the Nave and 4 in the alternate rows at the front. If you are in a group of more than 4 persons, please sit at the back. Please observe any request to, 'Please Leave a Space' by anyone who wishes to sit on their own. Everyone over the age of 10 is required to wear a mask at all times and everyone must use the hand-sanitiser provided. Track & Trace will be via the NHS App only. Singing remains restricted to the Choirs only until further notice.  More details on the Parish Website and Church doors.
Holy Cross Special Ministers: Now that Covid-19 restrictions are easing, Fr. Henry asked me to prepare the rota, allowing one minister to assist the priest in the distribution of Holy Communion at each Mass. Please, any special minister who has not been in touch with me confirm which Mass they are available for. Christina Buckley. Email: buckley448@btinternet.com 
PARISH SECRETARY
Holy Cross Carshalton is looking to recruit a part time Parish Secretary to assist in the administration of a busy parish. This will initially be on a 12 months fixed term contract. The role is to provide comprehensive support to the Parish Priest in all administrative matters within the Parish and will cover secretarial, financial and office management work. Previous secretarial experience is essential – along with good knowledge of bookkeeping/ financial work.  The successful candidate will be fully conversant with current office software such as Outlook, Word and Excel and be generally comfortable with IT and office equipment. He/she will have excellent telephone skills and a good understanding of the workings of a Roman Catholic Parish. Our ideal hours are Mondays and Wednesdays 9am – 2pm, Fridays 11am -4pm.  Rate of pay £13 per hour. Holidays by negotiation. If you would like to apply for this position please email your CV to carshalton@rcaos.org.uk by the closing date of September 30th. Please do not apply for this job if you do not have current permission to work in the UK.
School Forms: Please, wait further notification in the parish newsletter and website.
Wimbledon College welcome prospective parents and pupils for admission into Year 7 in September 2022 to a VIRTUAL OPEN EVENING on Thursday 30th September from 5pm. For registration and further information go to http://www.wimbledoncollege.org.uk and see poster in Narthex
Churches Together in Carshalton: "Religious Freedom, what does it mean in today's world?" A presentation by Neville Kyrke-Smith, National Director of Aid to the Church in Need. On Tue. 5th Oct. at 8PM. Church of the Good Shephard, Queen Mary's Avenue, Carshalton.
Thomas More Catholic School (Russell Hill Road, Purley, CR8 2XP) is holding an Open Evening for children currently in Year 6 of primary school and their parents on Tuesday 5 October 2021 from 18:00-21:00 There is no need to book for this event. Any further information, Admissions Officer, on 020-8668 6251
Vigil Choir: Any youngsters whishing to sing or play instrument at new vigil Choir Mass, contact Pamela Morris. Email:morri46pmms@gmail.com
PARISH CENTRE: Parish activities have recommenced in the Centre. For all bookings regular or otherwise, to avoid duplication of events, please contact carshalton@rcaos.org.uk or carshaltonparishpcbooking@rcaos.org.uk
CAFOD: The 2021 United Nations Climate Change Conference (COP26) is scheduled to be held in Glasgow between 31 Oct.- 12 Nov. CAFOD is asking people to organise a meeting with their local MP to discuss how to rebuild from the pandemic in a way that tackles the major global issues of our time. David Murray will try to set up a meeting with Elliot Colburn, MP for Carshalton & Wallington. If you are interested in being part of this vital task let David know at davidnmurray@yahoo.co.uk
THE BIBLE TIMELINE COURSE: Understand the Bible from start to finish, the Old and New Testament, with this FREE OF CHARGE, worldwide-famous course delivered online LIVE by Mauro Iannicelli. Starts Wed 29th September 2021. Eight Wednesday sessions (7pm-8:40pm). Info & Registration: http://www.comeandsee.org
May they rest in peace: We remember those who died in our prayers, especially Fr. Paul Sanders, Ted Morton, Rita Gomez, Nick Roche, Ann Teresa Firmo, Ann Deidre O'Reilly, Stephen O'Dwyer, Rebecca Wilson, Ellen Howard, John Stacey and Jim Witherow, Maurice McEvoy…

Remember to pray for the Sick and Housebound in the Parish.