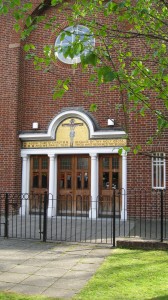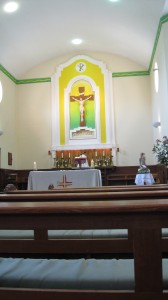 Holy Cross Catholic Church
46 North Street, Carshalton, Surrey, SM5 2JD
Parish Priest Fr. Henry Tiku Wenna
Resident Priest Fr. Philip Pak
Tel: 020 8647 0022
Email: carshalton@rcaos.org.uk
Go to mcnmedia.tv or follow the link on the Home page for live streaming 
Please see below and on the Home page for details of the next steps regards Covid.
Streaming is available all the time. Let us pray for each other, for everyone in Carshalton, and for all who are affected by the corona virus – including our NHS workers.
————————————————————————————
Bank details (for anyone wishing to make an online donation:)
NatWest:  Acc. name: RCAS Holy Cross Church, Carshalton
Account: 11064943; Sort code:  60 22 20
==================================================
24th SUNDAY IN OT
Sat . 11th   
18:30
Sun 12th
08:00
09:30
Matthew Nguyen Van Hue, RIP
11:00
18:30
Mon. 13th
08:00
10:00
Tue. 14th  
08:00
10:00
Union of Catholic Mothers
Wed. 15th   
08:00
10:00
Bereaved in the parish
Thu. 16th    
08:00
10:00
Fri. 17th
08:00
12:00
Sat. 18th
08:00
 
10:00
Paul Trotter, RIP
COVIT-19 GUIDELINE at HOLY CROSS: Currently the number of persons allowed in the Nave is 140: 6 people in each of the 9 rows of benches at the back of the Nave and 4 in the alternate rows at the front. If you are in a group of more than 4 persons, please sit at the back. Please observe any request to, 'Please Leave a Space' by anyone who wishes to sit on their own. Everyone over the age of 10 is required to wear a mask at all times and everyone must use the hand-sanitiser provided. Track & Trace will be via the NHS App only. Singing remains restricted to the Choirs only until further notice.  More details on the Parish Website and Church doors.
School Forms: Please, wait further notification in the parish newsletter and website.
Annual Mass Count 2021: There will be Annual Mass Count from next weekend (18-19 Sep.) for four weekends.
To all the Holy Cross Special Ministers: Now that Covid-19 restrictions are easing, Fr. Henry asked me to prepare the rota, allowing one minister to assist the priest in the distribution of Holy Communion at each Mass. Of course, for the time being at least the chalice is NOT offered. Please, any special minister who has not been in touch with me confirm which Mass they are available for. Many thanks. Christina Buckley. Email: buckley448@btinternet.com
RCIA, Journey in Faith 2021–2022: Journey in Faith is the process by which adults can prepare to be received into the Catholic Church. It aims to help people deepen their knowledge of Jesus and their relationship with Him. Weekly sessions take people through the key teachings of the Catholic Church and look at the issues facing Catholics in today's world. We look in detail at the sacraments and prepare those who decide to become Catholics to receive the sacraments of initiation at the Easter Vigil. Other parishioners who would like to join us and perhaps refresh their own faith are also very welcome. Sessions begin with an introductory evening and refreshments on THURSDAY 23rd SEPTEMBER at 7:45pm in the parish centre (unless anything changes re. COVID restrictions). If you are interested and would like to find out more, please come along and feel free to bring friends and family with you.  Please contact the RCIA Team via the contact form on the parish website, so that we have an idea of numbers.
The Archbishop's Certificate (ArchCert): an online course for all in Southwark who wish to know their Catholic faith more deeply. Participants will take a two-year journey through the Church's teaching to understand their faith in a more profound way and be able to share it with both confidence and joy. The course will commence in October 2021 and the cost will be £365 per year.  Registration must be completed in advance.  Further details can be found here: https://aec.rcaos.org.uk/archcert
Adoration. Every Tue. from 6pm-7pm and on every Sat. from 9am-10am ending with Benediction.
St. Philomena's School Open Evening.The Open Evening will be "on Tuesday 14th Sept 2021." for "Year 5 Students" only by appointment.
PRESBYTERY REFURBISHMENT: The Diocese has given the permission to begin the process of refurbishment of the Priest's House with the invitation of Bids. A Team in the parish are working to sort this out. Do support the works with your prayers and finances if you can.
Sutton Catenians: Sutton Catenians are hosting a Memorial Mass for Brother Paul Trotter, RIP, at 10AM on Sat. 18th Sep. Catenians support each other in their Catholic lives.
Want to help Afghan refugees? Sutton has joined the London wide effort for donated items. Please donate clean or new items in a sealed bag /box and deliver to one of the donation centres. Currently children's shoes and clothes, nappies, baby milk (halal), baby bottles, adult shoes and clothes, toothbrushes, toothpaste. Hill House(Bishopsford Road SM4 6BL | Mon – Fri, 9 30am – 4.30pm). Volunteer Centre Sutton (216-220 High Street Sutton SM1 1NU | Mon – Thur , 11am – 3pm) Sutton Carers Centre (Benhill House, 1st Floor, 12-14 Benhill Avenue, Sutton, SM1 4DA | Mon – Wed, 11am – 3pm). Please wear a face mask delivering your donation.
May they rest in peace: We remember those who died in our prayers, especially Fr. Paul Sanders, Ted Morton, Rita Gomez, Nick Roche, Ann Teresa Firmo, Ann Deidre O'Reilly, Stephen O'Dwyer, Rebecca Wilson, Ellen Howard, John Stacey and Jim Witherow, Maurice McEvoy…

Remember to pray for the Sick and Housebound in the Parish.