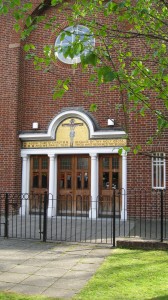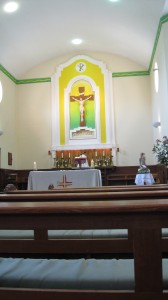 Holy Cross Catholic Church
46 North Street, Carshalton, Surrey, SM5 2JD
Parish Priest Fr. Henry Tiku Wenna
Resident Priest Fr. Philip Pak
Tel: 020 8647 0022
Email: carshalton@rcaos.org.uk
Go to mcnmedia.tv or follow the link on the Home page for live streaming 
Please see below and on the Home page for details  regards Covid.
Streaming is available all the time. Let us pray for each other, for everyone in Carshalton, and for all who are affected by the corona virus – including our NHS workers.
————————————————————————————-
4th  Sunday of Easter
 Sat. 7th May

ST. FLAVIA DOMITILLA

18:30
Fr Philip – Wellbeing
Sun. 8th May

World day of prayer  for vocations

08:00
People Of the Parish
09:30
Grzegorz Bogdanowicz – RIP
11:00
Stanislaw & Chris Kaminski – RIP
18:30
Mon. 9th May

ST. ISAIAH, PROPHET

08:00
10:00
Tue.10th May

ST. JOHN OF AVILA

08:00
10:00
 
18:00
Adoration
Wed. 11th May

ST. ANTHIMUS OF ROME

08:00
10:00
Thu. 12th May

STS. NEREUS AND ACHILLEUS

08:00
10:00
Fri.13th May

Our lady Of Fatima

08:00
 
12:00
Charlotte and Samuel Theriault Protection and Wellbeing
Sat. 14th May

ST. MATTHIAS

08:00
 
09:00
Adoration and Benediction
10:00
Philip Lim-Chim
May Month of the Rosary of the Blessed Virgin Mary.
During May the Rosary will be said before the Mass.
————————————————————————————-Priest Training Fund Second Collection this weekend.
The priesthood has always been essential to the life of the Church, from the time of Jesus until today.  Good Shepherd Sunday is the day we pray for vocations, for our priests, and take up the Priest Training Fund second collection. This fund pays for the formation of men to become priests in our Archdiocese.
————————————————————————————-Prayer Group: Meeting of the group – Monday 9th May 8pm
We pray over scripture for an hour. Many have found this rewarding and uplifting in their spiritual journey with our Lord Jesus. You would be very welcome to join us whatever your situation.
For more details please contact Matthew David at matthew.j.david@outlook.com or ring 07920788949.
————————————————————————————-GIFT AID
Gift Aid envelope boxes for this financial year (2022/23) are now available for collection in the church porch after weekend Masses.
Thank you to all members of the Gift Aid scheme which enables us to claim 25% from HMRC on all your donations to our parish.
If you are a UK taxpayer and would like to register for Gift Aid, please contact us by email carshaltongac1@rcaos.org.uk. Alternatively, you can download the Gift Aid form from our parish website and return it to us by email or drop it in the parish office.
If you are currently signed up to our parish Gift Aid scheme but you are no longer a UK taxpayer, please inform us by email carshaltongac1@rcaos.org.uk or via the parish office.
Please also let us know if you have changed your name or address details.
————————————————————————————-BIBLE Study: Monday 9th May 7.30pm
DVD and discussion: Romans: The Gospel of Salvation
"Romans reveals that salvation is not merely the removal of the guilty verdict: it is about entering into Christ's life, death and resurrection and sharing in His divine life."
"The Bible is at the heart of our Faith and our relationship with God. Much more than a book, it is a place where our Father comes to meet us and speaks to us with love" (Dei Verbum 21).
All welcome. carshaltonparishbiblestudy@rcaos.org.uk
————————————————————————————-Friday Luncheon
It will start again, after the 12noon mass, on Friday 13th of May (feast of Our Lady of Fatima). Same routine as before: every 2nd and 4th Friday of the month. The meal consists of Homemade soup and pudding, tea / coffee. Please note that we will still refrain from eating meat as it is Friday. All are welcome and we will discuss a Charity that you wish to support. Please get in touch with Maureen on: 02083955973. Thank you.
————————————————————————————-Funeral Mass
The Funeral Mass of Mr Rodolfo Iuliano takes place on Friday 13th May 2022 at 09.30am. We extend our sympathies to Rodolfo's family and friends.
---
————————————————————————————-Christian Aid Week 15th to 21st May
Hungry for Justice: The theme this year is centred on global poverty and in particular the situation in Zimbabwe where the struggle for survival is at crisis level.Drought starves and robs the people of the ability to grow food and they become hungry. Help alleviate their hunger by supporting Christian Aid Week. Holy Cross is working with local churches to deliver donation envelopes in your area. Donations can also be made via the website www.christianaid.org.uk
————————————————————————————-Day Of Prayer for Eastern Christians: 22nd May 2022
The British Catholic charity Fellowship and Aid to the Christians of the East (FACE) is delighted to announce the International Day of Prayer for Eastern Christians, which will take place on the Sixth Sunday of Easter -22nd May 2022, with the participation of Christians from all over Europe, the Middle East, the Horn of Africa and India. More information on the board.
————————————————————————————-
COVID-19 Precautions at Holy Cross – May. 22 UPDATE
-GEL YOUR HANDS / – WEAR A MASK
Any people displaying symptoms of Covid-19 should stay at home and not participate in acts of worship in church but online.
Everyone over the age of 10 is required to wear a facemask in the Church precincts at all times.
Hand sanitisers are available for all to use at places of entry and exit to our church.
Holy Communion is to be received in the hand. Those who wish to sing are encourage to keep their face coverings while singing. Doors and windows are being kept open to provide necessary ventilation to limit the spread of the virus; please leave them open. More information on the Parish Website and Church doors.