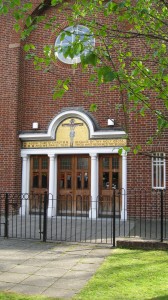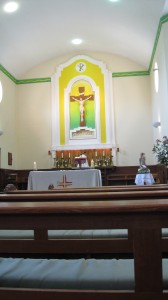 Holy Cross Catholic Church
46 North Street, Carshalton, Surrey, SM5 2JD
Parish Priest Fr. Henry Tiku Wenna
Resident Priest Fr. Philip Pak
Tel: 020 8647 0022
Email: carshalton@rcaos.org.uk
Go to mcnmedia.tv or follow the link on the Home page for live streaming 
Please see below and on the Home page for details  regards Covid.
Streaming is available all the time. Let us pray for each other, for everyone in Carshalton, and for all who are affected by the corona virus – including our NHS workers.
————————————————————————————
7th Sunday of Easter
 Sat. 28th May

ST. GERMAIN

18:30
Mary Teresa Rodrigues-RIP
Sun. 29th May

 

08:00
Joseph Poole – RIP
09:30
Lidia Alfonso – RIP
11:00
18:30
Yann Guiho – Thanksgiving
Mon. 30th May

ST. JOAN OF ARC

08:00
10:00
Tue.31st May

Visitation Of the Blessed Virgin Mary

08:00
People Of the Parish
10:00
 
18:00
Adoration
Wed. 01st June

ST. JUSTIN

08:00
10:00
Thu. 2nd June

STS. MARCELLINUS,  And PETER

08:00
10:00
Fri. 3rd June

STS. CHARLES LWANGA AND COMPANIONS, MARTYRS OF UGANDA

08:00
Kathleen Rowe – FM
12:00
Sat. 4th June

ST. FRANCIS CARACCIOLO

08:00
 
09:00
Adoration and Benediction
 
10:00
Next Sunday is Pentecost day; it is a Holyday of Obligation. Mass will be at the usual time.
This weekend collection: World Communications.
————————————————————————————-Sunday Mass Obligations:
With the ease of almost all the lockdown regulations, the Catholic Bishops Conference of England and Wales have decided to reinstate the Sunday Obligations. This means that every Catholic is expected to attend Mass in Church on Sunday beginning from Pentecost Sunday, 5 June 2022. However, those who, as a result of age, poor mobility, sickness or any other tenable reasons, are unable to be physically present are exempt. You can read a full explanation of this plenary resolution on our website. Welcome Home!
————————————————————————————-Missing: One church window Pole last seen at Easter. We need to be able to open the windows during warm weather.
Please keep your eyes open.
---
————————————————————————————-'The Spirit That Gives Us Life' John 6:63
The All Nations Catholic Charismatic Group invites all the people of the parish for the celebration of the feast of the Pentecost at St Andrews Church, Thornton Heath, Croydon on Sunday 5 June from 1pm onwards. The feast of Pentecost is an integral part of our Christian life. Our main celebrant will be His Grace Most Rev Archbishop Emeritus Kevin McDonald. In attendance as well are Rev Fr Francis Utotu and Rev Fr Mark Binang.  Let us come together to celebrate the birthday of our church.  Food and drinks will be provided after the Eucharistic celebration.  Please see the poster on the notice board for more information. Thank you.
————————————————————————————-The Southwark Brethren
The Charity of the Southwark Brethren started in 1921 and has always focused on helping the sick priests and those who are in need. Although Priests' standard of living has increased over the years, what is greatly noticed is the cost of care whether a priest chose to have care at home or decide to go into residential care or nursing care, the costs of care are extremely high and so support in this way is necessary if a priest cannot support themselves. Please send donations to either Fr Paul Hough or Fredericka Pizzoferro (Trustee) at 3 Birch Way Warlingham CR6 9DA, for further enquiries please call 07939654522. We thank you for your continuous generosity in the past and ask for your help again this year.
---
————————————————————————————-Catholic History Walks: Sunday, June 26th The Martyrs Walk
Meet at 2.30 pm churchyard of St Giles-in-the-Fields London WC2H 8LG (nearest tube: Tottenham Court Road). We will walk to Tyburn Convent for Benediction and Tea, arriving approx. 4 pm. Come and celebrate…. www.catholichistorywalks.com
————————————————————————————-Help for Accommodation
"I am Josefina, a 24-year-old, practicing catholic and fashion designer. I am looking for a quiet place where I could rent a single or double room to live, paying a monthly rent. I'm also looking for easy going and respectful people. Please, feel free to contact me if you have any room available for rent or if you know someone that could help me with my accommodation search. Please, contact me by email: coteteranfrias@gmail.com or phone: 07308776075. Thanks.
————————————————————————————-Queen 's Platinum Jubilee
The Catholic Bishops' Conference has asked that, at all Sunday Masses on 4–5 June 2022, each parish prays for Her Majesty the Queen to mark her Platinum Jubilee.
————————————————————————————-
COVID-19 Precautions at Holy Cross – May. 22 UPDATE
-GEL YOUR HANDS / – WEAR A MASK
Any people displaying symptoms of Covid-19 should stay at home and not participate in acts of worship in church but online.
Everyone over the age of 10 is required to wear a facemask in the Church precincts at all times.
Hand sanitisers are available for all to use at places of entry and exit to our church.
Holy Communion is to be received in the hand. Those who wish to sing are encourage to keep their face coverings while singing. Doors and windows are being kept open to provide necessary ventilation to limit the spread of the virus; please leave them open. More information on the Parish Website and Church doors.