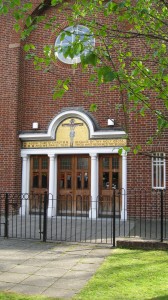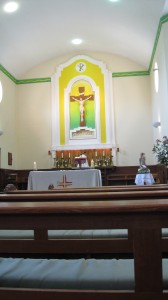 Holy Cross Catholic Church
46 North Street, Carshalton, Surrey, SM5 2JD
Parish Priest Fr. Henry Tiku Wenna
Resident Priest Fr. Philip Pak
Tel: 020 8647 0022
Email: carshalton@rcaos.org.uk
Go to mcnmedia.tv or follow the link on the Home page for live streaming 
Please see below and on the Home page for details  regards Covid.
Streaming is available all the time. Let us pray for each other, for everyone in Carshalton, and for all who are affected by the corona virus – including our NHS workers.
————————————————————————————-6th Sunday of Easter
Sat. 21st May

ST. Christopher of Magallanes

18:30
Rodolfo Iuliano
Sun. 22nd May

ST. RITA OF CASCIA

08:00
People of the Parish
09:30
11:00
Barbara Wei – RIP
18:30
Ann McDonagh
Mon. 23rd May

 

08:00
10:00
Tue.24th May

ST. VINCENT DI LÉRINS

08:00
10:00
 
18:00
Adoration
Wed. 25th May

St BEDE

08:00
10:00
19:30
Confirmation Mass
Thu. 26th May

ASCENSION OF THE LORD

08:00
Pat Walmsley – BD
10:00
Adrian Mann -BD
19:30
Lidia Alfonso – RIP
Fri. 27th May

ST. AUGUSTINE

08:00
 
12:00
Sat. 28th May

ST. GERMAIN

08:00
Peace and Thanksgiving for the family D'Mello
09:00
Adoration and Benediction
10:00
Feast of The Ascension of Our Lord Jesus Christ: Thursday 26th of May is a Holyday of Obligation. Mass will be at the usual time.
Second Collection next weekend: World Communications.
————————————————————————————-Confirmation Mass – 25th of May at 7:30pm.
Bishop Paul Hendricks will celebrate the Sacrament of Confirmation this Wednesday. The candidates need to be here by 7:00pm and wear a face mask.
Please pray for our children.
————————————————————————————-Please can you help? Volunteers needed to:
– Help to clean the church on Thursdays.
– Help to plan the Special Ministers rota every 2 months.
Please email: carshalton@rcaos.org.uk  Thank you.
————————————————————————————-Thank you from Father Henry
Father Henry is back from the hospital and is recovering. He would like to extend to all the parishioners, his warmest thank you for all your prayers and concern, especially on his birthday. GOD bless you and all your family.
————————————————————————————-BIBLE Study: Monday 23rd May 7.30pm
DVD and discussion: Romans: The Gospel of Salvation
"Romans reveals that salvation is not merely the removal of the guilty verdict: it is about entering into Christ's life, death and resurrection and sharing in His divine life."
"The Bible is at the heart of our Faith and our relationship with God. Much more than a book, it is a place where our Father comes to meet us and speaks to us with love" (Dei Verbum 21).
All welcome. to any or all the sessions in an informal relaxed atmosphere. Carshaltonparishbiblestudy@rcaos.org.uk
 ———————————————————————————Southwark Vocations
Have you ever considered you may be called to the priesthood or the religious life? Southwark Vocations will be hosting a 60-minutes webinar on Tuesday 24th May at 7pm entitled 'Here I am, send me' where different presenters will speak about discovering God's plan for each one of us. Please join us by registering for the event in advance by following the link: https://us06web.zoom.us/j/84384912807?pwd=UWJzSzVsY2VTaGI3c09Fa0tNbVVWZz09
————————————————————————————-Mass For Anniversary of the visit of Pope St John Paul II To St George's Cathedral with anointing of the sick
28 May 2022 12.30 PM
The Cathedral will be hosting an exhibition in the period 16 – 30 May about the visit of St John Paul II to St George's. For more information, email: admin@stgeorges.org.uk
 ———————————————————————————Fix the Food System – CAFOD Summer Campaign
CAFOD's new campaign is called Fix the Food System. See: www.cafod.org.uk/food for more information, including an invitation for parish groups to learn about the impact of our food with our Fix the Food System: a 7-station journey resource.
————————————————————————————-
COVID-19 Precautions at Holy Cross – May. 22 UPDATE
-GEL YOUR HANDS / – WEAR A MASK
Any people displaying symptoms of Covid-19 should stay at home and not participate in acts of worship in church but online.
Everyone over the age of 10 is required to wear a facemask in the Church precincts at all times.
Hand sanitisers are available for all to use at places of entry and exit to our church.
Holy Communion is to be received in the hand. Those who wish to sing are encourage to keep their face coverings while singing. Doors and windows are being kept open to provide necessary ventilation to limit the spread of the virus; please leave them open. More information on the Parish Website and Church doors.
 ———————————————————————————Drop-In morning for Ukranian guests.
Drop-In on Thursday mornings at St Elphege's Church Hall 10.30 – 12. The aim is to provide a welcome space for Ukranian guests to meet each other for a chat and tea/coffee. Parishioners have offered to help give a welcome and we have 3 parishioners able to translate for us.
————————————————————————————-Save The Date: 25th Of June 2022: Day for Catechists
Back after two years, this wonderful opportunity for training, sharing and fellowship is back. Keynote talk, workshops, stalls and Mass with Archbishop John Wilson. Bookings through your parish or contact the Agency.
————————————————————————————-Prison Advice and Care Trust (Pact): Online Just People workshop. Free to attend, it offers an opportunity for prayer and reflection upon Scripture, Church Teaching and Catholic Social Teaching through the lens of people affected by imprisonment. All are welcome. To book – https://rb.gy/pkwqji
Tuesday 26th May, 9am – 2.30pm, Online via Zoom
To find out more about this event or other Just People workshops, call Marie on 07581 194907 or email marie.norbury@prisonadvice.org.uk