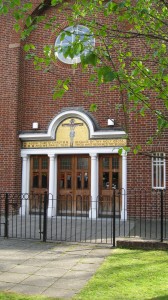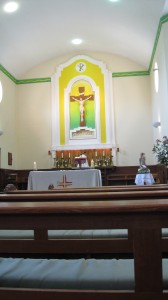 Holy Cross Catholic Church
46 North Street, Carshalton, Surrey, SM5 2JD
Tel: 020 8647 0022
Email: carshalton@rcaos.org.uk
Go to mcnmedia.tv or follow the link on the Home page for live streaming 
We are still under Government restrictions – please see the Home page for details of requirements
Streaming is available all the time. Let us pray for each other, for everyone in Carshalton, and for all who are affected by the corona virus – including our NHS workers.
————————————————————————————
Bank details (for anyone wishing to make an online donation:)
NatWest:  Acc. name: RCAS Holy Cross Church, Carshalton
Account: 11064943; Sort code:  60 22 20
==================================================
CORPUS CHRISTI SUNDAY
MASS TIMES

on Mon:

08:00

on Tue:

08:00

on Wed:

08:00

on Thu:

08:00 and 10:00

on Fri:

08:00 and 12:00

on Sat:

08:00 and 18:30 (Sunday vigil)

on Sun: 08:00, 09:30, 11:00, and 18:30  
"We are first of all a Eucharistic community, centred on Christ, without whom we will get nowhere. We, all of us, have something to share with each other (and pass on), to discover ever more about our faith. And too we are evangelisers: Christ is Saviour of everyone."
St. Philomena's School Open Evening
On Tuesday 6th July 2021 for "Year 5 Students" only by appointment. Please go to the school's website to book a place for the Open Evening. (Some details on the poster in the parish notice board.)
The Agency for Evangelisation and Catechesis team
Archbishop John is calling the Archdiocese of Southwark to be an 'evangelising and missionary archdiocese.' As part of an answer to this call the Agency for Evangelisation and Catechesis (AEC) is developing a missionary volunteer network consisting of prayer, people and parish plans – Some Definite Service. What might be your particular part to play in this, some definite service? For more information, visit: http://aec.rcaos.org.uk/sds.
EU Settlement Scheme:
EU citizens who intend to continue living in the UK need to apply for settlement before 30 June 2021. If you, or anyone you know, is in this situation, you can get help from:
Refugee and Migrant Network Sutton Tel: 07725 549411
Citizens Advice Sutton Tel: 020 8405 3552 The advice worker at RMNS will call you back if necessary and can arrange for an interpreter for your call if you need one.
Marriage & Family Life in Southwark:
"Dear Husband and Wife, you are invited to give each other a gift by spending July 10 online between 9am and 1pm exploring and improving your relationship. The event, entitled 'Building A Better Marriage', will provide you with valuable insights into your communication skills and the call of the Church to the married. There is no group sharing. This is not marriage counselling but a chance to make average-to-good marriages a bit better – whether you married five years ago or 50. Booking is essential: telephone 07983 524 727 or email mflkent@rcaos.org.uk
 Annual Cathedral Marriage Mass:
Are you celebrating your 1st, 10th, 25th, 40th, 50th, 60th or any later wedding anniversary this year? Or did you last year? If so, Archbishop John invites you to join him in celebrating a Mass for married couples at 3pm on Saturday October 9 at St George's Cathedral. You need to book in advance and by doing so you will then receive a personal written invitation from Archbishop John. To book or for more details email mflsw@rcaos.org.uk
 Gift Aid Box:
Gift Aid Envelops from June onward are available in the Parish Centre after every Mass. Please, remember your Gift Aid Envelop Number so you may easily find your box. If you wish to start Gift Aid Donations, please see someone there to help you.
 "This needs to stop!"
Cardinal Bo after church shelling in Myanmar said.
Cardinal Bo, Archbishop of Yangon, has written a letter, translated into English, appealing for an end to the violent conflict in Myanmar, something he describes as a "great humanitarian tragedy". His Eminence wrote in the aftermath of a shocking attack on a Catholic church in Kayanthayar near Loikaw in Eastern Myanmar on 23 May that killed four and wounded many more. Pray for the people of Myanmar!
Remember our Confirmation Candidates at Holy Cross!
May they rest in peace.
We remember those who died in our prayers, especially Fr. Paul Sanders, Ted Morton, Rita Gomez, Nick Roche, Ann Teresa Firmo, Ann Deidre O'Reilly, Stephen O'Dwyer…
Sick or in hospital?
Please tell Fr Philip of anyone at St. Helier or Epsom Hospital. Thank you for keeping in prayer all who are sick.