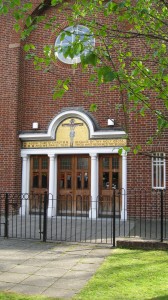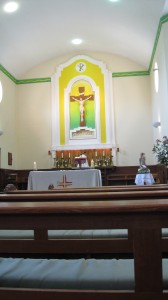 Holy Cross Catholic Church
46 North Street, Carshalton, Surrey, SM5 2JD
Parish Priest Fr. Henry Tiku Wenna
Resident Priest Fr. Philip Pak
Tel: 020 8647 0022
Email: carshalton@rcaos.org.uk
Go to mcnmedia.tv or follow the link on the Home page for live streaming 
Please see below and on the Home page for details  regards Covid.
Streaming is available all the time. Let us pray for each other, for everyone in Carshalton, and for all who are affected by the corona virus – including our NHS workers.
————————————————————————————
THIRTEENTH SUNDAY
Sat. 25th June

Immaculate Heart of The Blessed Virgin Mary

18:30
Alex Faircloth – BD
Sun. 26th June

 

08:00
Brian Flannery
09:30
11:00
Gillian Lyons Wellbeing
18:30
People of the Parish
Mon. 27th June

St Cyril of Alexandria

08:00
10:00
Tue. 28th June

St. Irenaeus

08:00
10:00
 
18:00
Adoration
Wed. 29th June

Ss Peter and Paul Apostles

08:00
10:00
19:30
Thu. 30th June

First Martyrs of Holy Roman Church

08:00
10:00
Fri. 1st July

St Oliver Plunket

08:00
 
12:00
John Howard – RIP
Sat. 2nd July

The Blessed Virgin Mary

08:00
 
09:00
Adoration and Benediction
 
10:00
Second Collection on the 29th of June and weekend masses: Peter's Pence for the needs of poor dioceses, religious institutes and faithful in grave difficulties.
Wednesday 29th of June is a Holyday of Obligation. St Mary's school children will join us at 10 am mass.
————————————————————————————-Sunday Mass Obligations:
With the ease of almost all the lockdown regulations, the Catholic Bishops Conference of England and Wales have decided to reinstate the Sunday Obligations. This means that every Catholic is expected to attend Mass in Church on Sunday. However, those who, as a result of age, poor mobility, sickness or any other tenable reasons, are unable to be physically present are exempt. Full explanation of this plenary resolution on our website. Welcome Home!
---
————————————————————————————-BIBLE Study:  Monday 27th June 7.30pm
DVD and discussion: read Romans: 4-5
Come and join us for another session on the teaching of St Paul: "Entering into the Paschal Ministry." While Christ's death atones for sin; the goal of salvation is for us to share in the divine life.
All welcome for one or all of the sessions. Light refreshments available. Carshaltonparishbiblestudy@rcaos.org.uk
————————————————————————————-Synod 2023.
Anyone with ears to hear should listen and understand! (Matt 11:15). Pope Francis has initiated a listening process for discussion in 2023. Holy Cross has already contributed to this. We need now to discuss the feedback the Diocese received from all the parishes. More importantly we should meet to help fulfil this listening process at 'home' in Holy Cross. Summaries of responses from the listening phase can be found on the website.
https://holycrosscarshalton.co.uk/synod-2023/
https://www.rcsouthwark.co.uk/media/n0vfb2my/southwarksynthesis_final.pdf
You are invited to our parish's meeting on Sunday July 10, 2022, 4:30 – 6:15 pm in the parish centre. Please do consider contributing to this and put the date in your calendar now.
————————————————————————————-Father Desiderius Pule Olima
A warm welcome to Fr Desiderius Pule Olima who will be arriving on Thursday the 30th June.  Father will be staying with us until the 30th September as he takes a mini Sabbatical here at Holy Cross. As always do make him welcome.
————————————————————————————-Encountering the Relics of St Bernadette
In September and October this year, the relics of St Bernadette will journey on pilgrimage to England, Scotland, and Wales for the very first time. This very special once in a lifetime event will provide an opportunity for people of all ages and backgrounds to experience the special gifts and charisms of Lourdes, in a church or cathedral near them. Details on how to register and other venues: https://stbernadette.org.uk/the-tour/
Westminster Cathedral:
Arrive -11:00: 03/09/2022   Depart – 09:30: 05/09/2022
————————————————————————————-
COVID-19 Precautions at Holy Cross – June. 22 UPDATE
-GEL YOUR HANDS / – WEAR A MASK
Any people displaying symptoms of Covid-19 should stay at home and not participate in acts of worship in church but online.
Everyone over the age of 10 is required to wear a facemask in the Church precincts at all times.
Hand sanitisers are available for all to use at places of entry and exit to our church.
Holy Communion is to be received in the hand. Those who wish to sing are encourage to keep their face coverings while singing. Doors and windows are being kept open to provide necessary ventilation to limit the spread of the virus; please leave them open. More information on the Parish Website and Church doors.
 ———————————————————————————
Open Evening St Philomena's Catholic High School for Girls on the 28th June from 3:30 pm to 7:30pm for prospective new parents and students of Year 6 going into year 7 entrants.
————————————————————————————-CELEBRATING FAMILY (WMF)- June 22-26
Wednesday (the 22nd) sees the start of the World Meeting of Families with events celebrating the family taking place globally. Pope Francis will celebrate a special family Mass in Rome (which you can watch online) and issue a papal message on the importance of the family to the world. Do make use of the WMoF prayer card being distributed at Mass this weekend. Visit the website World Meeting of Families June 22-26: Archdiocese of Southwark (rcsouthwark.co.uk) for more information.
————————————————————————————-The Universe Catholic Weekly: Digital 4 weeks FREE trial
The Universe Catholic Weekly is thrilled to announce that we have launched our new online newspaper with the full support of our first subscriber none other than His Eminence Cardinal Vincent Nichols. Order your Digital 4 weeks FREE trial supply by calling Michelle on 0743 661 7650 or email: michelle.jones@universecatholicweekly.co.uk
————————————————————————————-SS  Peter  and Paul Parish is inviting you to their Annual  Outdoor Mass to celebrate  the  feast  of  our  Patrons  this Sunday  26th June  at  3.30pm  on Mitcham Cricket  Green.