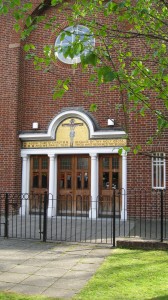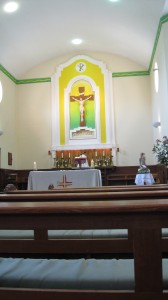 Holy Cross Catholic Church
46 North Street, Carshalton, Surrey, SM5 2JD
Parish Priest Fr. Henry Tiku Wenna
Resident Priest Fr. Philip Pak
Tel: 020 8647 0022
Email: carshalton@rcaos.org.uk
Go to mcnmedia.tv or follow the link on the Home page for live streaming 
Please see below and on the Home page for details  regards Covid.
Streaming is available all the time. Let us pray for each other, for everyone in Carshalton, and for all who are affected by the corona virus – including our NHS workers.
————————————————————————————CORPUS CHRISTI
Sat. 18th June

 

18:30
Max Galvis – RIP
Sun. 19th June

 

08:00
People of the Parish
09:30
Charles Eileen Berry – RIP
11:00
18:30
Mon. 20th June

The Irish Martyrs

08:00
Louise Leonie Leo – RIP
10:00
Tue. 21st June

St. Aloysius Gonzaga

08:00
10:00
 
18:00
Adoration
Wed. 22nd June

Ss John Fisher and       Thomas More

08:00
10:00
Thu. 23rd June

Nativity Of St John The Baptist

08:00
10:00
19:30
Fri. 24th June

Most Sacred Heart of Jesus

08:00
 
12:00
Sat. 25th June

Immaculate Heart of The Blessed Virgin Mary

08:00
 
09:00
Adoration and Benediction
 
10:00
Collection this week for CaTEW: The Catholic Trust for England and Wales.
———————————————————————————–Sunday Mass Obligations:
With the ease of almost all the lockdown regulations, the Catholic Bishops Conference of England and Wales have decided to reinstate the Sunday Obligations. This means that every Catholic is expected to attend Mass in Church on Sunday beginning from Pentecost Sunday, 5 June 2022. However, those who, as a result of age, poor mobility, sickness or any other tenable reasons, are unable to be physically present are exempt. You can read a full explanation of this plenary resolution on our website. Welcome Home!
We welcome feedbacks regarding the size of the newsletter.
————————————————————————————-First Holy Communion
Congratulations to all the children who will receive the sacrament of First Holy Communion this weekend. A special thank you to Nadine Mitchell and Clare Goggin our catechist.
————————————————————————————-BIBLE STUDY:  Monday 27th June 7.30pm
DVD and discussion: read Romans: 4-5
Light refreshments available.
Come and join us for another session on the teaching of St Paul: "Entering into the Paschal Ministry." While Christ's death atones for sin; the goal of salvation is for us to share in the divine life.
All welcome for one or all of the sessions.
Carshaltonparishbiblestudy@rcaos.org.uk
 ———————————————————————————Synod 2023.
Anyone with ears to hear should listen and understand! (Matt 11:15). Pope Francis has initiated a listening process for discussion in 2023. Holy Cross has already contributed to this. We need now to discuss the feedback the Diocese received from all the parishes. More importantly we should meet to help fulfill this listening process at 'home' in Holy Cross. Summaries of responses from the listening phase can be found on the website.
https://holycrosscarshalton.co.uk/synod-2023/
https://www.rcsouthwark.co.uk/media/n0vfb2my/southwarksynthesis_final.pdf
You are invited to our parish's meeting on Sunday July 10, 2022, 4:30 – 6:15 pm in the parish centre. Please do consider contributing to this and put the date in your calendar now.
————————————————————————————-Diocesan Lourdes Pilgrimage
The Southwark Diocesan Pilgrimage to Lourdes will take place between 19th and 26th August. We are sad that, like most Lourdes pilgrimages this year, we have not been able to include pilgrims who need medical support. At the same time, we are delighted to be returning to Lourdes after two years of absence. Details are available at:
www.tangney-tours.com/pilgrimages/lourdes/catholic-association.
Southwark contacts::
Canon Ed Perera (edwardperera@rcaos.org.uk) and
Bishop Paul Hendricks (paulhendricks@rcaos.org.uk).
————————————————————————————-
COVID-19 Precautions at Holy Cross – June. 22 UPDATE
-GEL YOUR HANDS / – WEAR A MASK
Any people displaying symptoms of Covid-19 should stay at home and not participate in acts of worship in church but online.
Everyone over the age of 10 is required to wear a facemask in the Church precincts at all times.
Hand sanitisers are available for all to use at places of entry and exit to our church.
Holy Communion is to be received in the hand. Those who wish to sing are encourage to keep their face coverings while singing. Doors and windows are being kept open to provide necessary ventilation to limit the spread of the virus; please leave them open. More information on the Parish Website and Church doors.
———————————————————————————————
Postponed :  Day for Catechists will instead now take place on Saturday 12 November 2022
————————————————————————————-CELEBRATING FAMILY (WMF)- June 22-26
Wednesday (the 22nd) sees the start of the World Meeting of Families with events celebrating the family taking place globally. Pope Francis will celebrate a special family Mass in Rome (which you can watch online) and issue a papal message on the importance of the family to the world. Do make use of the WMoF prayer card being distributed at Mass this weekend. Visit the website World Meeting of Families June 22-26: Archdiocese of Southwark (rcsouthwark.co.uk) for more information.
 ———————————————————————————PRAYER FOR FATHERS –  Happy Father's Day
God our Father, through the intercession of St. Joseph, foster father of Your Son, Our Lord Jesus Christ, we give you thanks and praise for all fathers in the world.
We pray for them so that they may find courage and perseverance to balance work, family and faith in joy and sacrifice. We pray for those whose children are lost or are suffering; may they know that the God of compassion walks with them in their sorrow. We pray for men, especially the priests and monks, who exercise their paternity in a spiritual way and guide others with fatherly concern and advice. Amen.