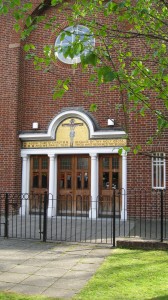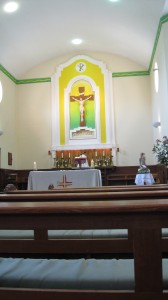 Holy Cross Catholic Church
46 North Street, Carshalton, Surrey, SM5 2JD
Parish Priest Fr. Henry Tiku Wenna
Resident Priest Fr. Philip Pak
Tel: 020 8647 0022
Email: carshalton@rcaos.org.uk
Go to mcnmedia.tv or follow the link on the Home page for live streaming 
Please see below and on the Home page for details  regards Covid.
Streaming is available all the time. Let us pray for each other, for everyone in Carshalton, and for all who are affected by the corona virus – including our NHS workers.
————————————————————————————
THE MOST HOLY TRINITY
SAT. 11TH JUNE ST BARNABAS 18:30 FITZROY HENRY – RIP CYLMA HENRY – RIP
SUN. 12TH JUNE
MOST HOLY TRINITY 08:00
09:30 Michael F McGuire – RIP
11:00 Baby Thomas Joseph Weston – RIP
18:30
Mon.13th June
ST ANTHONY OF PADUA 08:00
10:00
Tue. 14th June
ST DAVNET 08:00
10:00
18:00 Adoration
Wed. 15th June
08:00
10:00
Thu. 16th June
ST RICHARD OF CHICHESTER 08:00
10:00
Fri. 17th June
08:00
12:00
SAT. 18th June
08:00
09:00 Adoration and Benediction
10:00
Second collection next week: CaTEW
Next Sunday there will be a second collection for the Catholic Trust for England and Wales, which supports the legal, financial and charitable activities of the Bishop's Conference, its departments, agencies and offices.
===================================================Sunday Mass Obligations:
With the ease of almost all the lockdown regulations, the Catholic Bishops Conference of England and Wales have decided to reinstate the Sunday Obligations. This means that every Catholic is expected to attend Mass in Church on Sunday beginning from Pentecost Sunday, 5 June 2022. However, those who, as a result of age, poor mobility, sickness or any other tenable reasons, are unable to be physically present are exempt. You can read a full explanation of this plenary resolution on our website. Welcome Home!
————————————————————————————-Parking restriction on Sunday 19th June 2022
Due to the London to Brighton Bike Ride, Carshalton- Pound Street will be closed between High Street and Carshalton Road via North Street between 06:00 am and 1:00 pm.
Please do not use the car park during that time. Other roads remain open to all traffic.
————————————————————————————-First Holy Communion
The sacrament of First Holy Communion will be celebrated on Saturday 18th of June and Sunday 19th of June. Please keep our children in your prayers.
Please note that we will have a restricted parking on that Sunday.
————————————————————————————-Diocesan Day for Catechists 2022
This year's special event will take place on Saturday 25 June 2022 from 10.30 am until celebration of Mass with Archbishop John starting at 4pm.
Place: Amigo Hall, St George's Cathedral, Southwark, SE1 6HR.
This Day is for all the Catechists of the Diocese, including those involved in Children's Liturgy of the Word and the RCIA process and is our first since 2019.
All parish catechists should try to attend this day if they possibly can.
The programme is as follows:
10:30 am Arrivals, registrations and tea/coffee
11:00 am Welcome and practical notices
11:05 am Keynote Address: The contribution of catechesis to the
mission of the Church. Fr Marcus Holden
12 noon Session 1 ('Some Definite Service' workshop)
1:00 pm Lunch and Bookstall
1:45 pm Session 2 choice of Workshop
2:45 pm Session 3- choice of Workshop
4:00 pm Commissioning Mass to be celebrated by Archbishop John Wilson,
followed by graduation ceremony for students.
Tea and coffee will be provided. Please bring a packed lunch.
Please contact the parish office to register and for more information regarding the workshops please visit: https://aec.rcaos.org.uk/latest/day-for-catechists-2022
Deadline for application: Thursday 16th of June.
————————————————————————————-Synod 2023.
'Anyone with ears to hear should listen and understand!  '(Matt 11:15)
Pope Francis has initiated a listening process for discussion in 2023. Holy Cross has already contributed to this. We need now to discuss the feedback the Diocese received from all the parishes. More importantly we should meet to help fulfil this listening process at 'home' in Holy Cross. Summaries of responses from the listening phase can be found on the website.
https://holycrosscarshalton.co.uk/synod-2023
To view Southwark Diocese Synod website go to:
https://www.rcsouthwark.co.uk/media/n0vfb2my/southwarksynthesis_final.pdf
You are invited to our parish's meeting on Sunday July 10, 2022, 4:30 – 6:15 pm in the parish centre. Please do consider contributing to this and put the date in your calendar now.
————————————————————————————-The Archbishop's Certificate
The Archbishop's Certificate (ArchCert) is a 2-year online course for all in the Diocese who proclaim their faith to others: as evangelisers, catechists or adult formators.
It is a course for all wishing to know their Catholic faith more deeply no matter their stage in life. For further course details: https://aec.rcaos.org.uk/archcert
————————————————————————————-Last Chance: WEDDING ANNIVERSARY CELEBRATION MASS
Are you celebrating your 1st, 10th, 25th, 40th, 50th, 60th or any later wedding anniversary this year? Or did you last year? If so, Archbishop John Wilson invites you to join him in celebrating a Mass for married couples at 3pm on Saturday July 9 at St George's Cathedral. Book now and by doing so you will then receive a personal written invitation from Archbishop John. Children (and grandchildren) are welcome to accompany you to the Mass. But you need to act immediately. Email: mflsw@rcaos.org.uk
————————————————————————————-Archdiocese of Southwark 2022 Spring Assembly
by the Justice and Peace Commission on Saturday 25th June 2022 at St Paul Catholic Church, 103 Maison Dieu Road, Dover, Kent CT16 1RU. Preceded by Mass at 10.00am at St Edmunds Chapel, Priory Road, Dover CT16 1BB. Registration 10.40am. Programme 11am to 4pm. Entitled: Caught in the Act: How do we open a sea of hospitality in a distorted world for people fleeing countries of war, climate and economic disaster, when the Nationality and Borders Act and removal to Rwanda threaten their very being? Plus navigating the challenges to find opportunities in offering safe sanctuary to the people from Ukraine. Keynote speakers from major organisations. Everyone welcome. Entrance is free. Lunch is provided. Donations suggested. Email: jpiccontact@rcaos.org.uk or just turn up on the day. Finishing with a prayer service at the sea front and ice-creams on the beach.
————————————————————————————-The World Meeting of Families (WMF)- June 22-26
"The family, which is founded and given life by love, is a community of persons."
(Familiaris Consortio 18) Saint Pope John Paul II.
This summer we are all invited to spiritually gather as a World Family in Christ to celebrate the joy, love, and glory that is the vocation of family life through The World Meeting of Families (WMF), Wednesday 22nd to Sunday 26th June 2022.
More information can be found on the Southwark diocesan website.
————————————————————————————-Catholic History Walks: Sunday, June 26th The Martyrs Walk
Meet at 2.30 pm churchyard of St Giles-in-the-Fields London WC2H 8LG (nearest tube: Tottenham Court Road). We will walk to Tyburn Convent for Benediction and Tea, arriving approx. 4 pm. Come and celebrate…. www.catholichistorywalks.com
————————————————————————————-Garden Party
The Passage would like to invite you and your parishioners to attend a Secret Garden Party on Thursday 7th July, 6pm-9pm, at College Garden, Westminster Abbey. Tickets start at £55 per person and include a barbecue, alcoholic and soft drinks, live entertainment and a raffle & auction.
Tickets can be purchased here on our website:
https://passage.org.uk/get-involved/events/garden-party/
All ticket purchases help us to continue our vital work supporting London's most vulnerable people.
————————————————————————————-COVID-19 Precautions at Holy Cross – June 22 UPDATE -GEL YOUR HANDS / – WEAR A MASK Any people displaying symptoms of Covid-19 should stay at home and not participate in acts of worship in church but online. Everyone over the age of 10 is required to wear a facemask in the Church precincts at all times. Hand sanitisers are available for all to use at places of entry and exit to our church. Holy Communion is to be received in the hand. Those who wish to sing are encourage to keep their face coverings while singing. Doors and windows are being kept open to provide necessary ventilation to limit the spread of the virus; please leave them open. More information on the Parish Website and the Church door