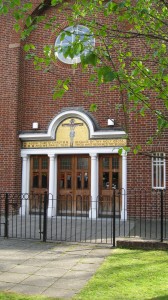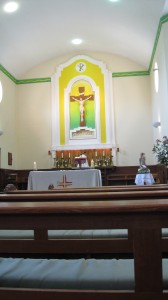 Holy Cross Catholic Church
46 North Street, Carshalton, Surrey, SM5 2JD
Parish Priest Fr. Henry Tiku Wenna
Resident Priest Fr. Philip Pak
Tel: 020 8647 0022
Email: carshalton@rcaos.org.uk
Go to mcnmedia.tv or follow the link on the Home page for live streaming 
Please see below and on the Home page for details  regards Covid.
Streaming is available all the time. Let us pray for each other, for everyone in Carshalton, and for all who are affected by the corona virus – including our NHS workers.
————————————————————————————
FOURTEENTH SUNDAY
Sat. 2nd July

The Blessed Virgin Mary

18:30
Anne Laurie – RIP
Sun. 3rd July

St Thomas

08:00
09:30
Ebube Okechukwu – Intentions
11:00
18:30
McDonagh Family Intentions and Thanksgiving to St Joseph
Mon. 4th July

St Elizabeth Of Portugal

08:00
10:00
Tue. 5th July

St Anthony Zaccaria

08:00
Antony Ben – RIP
10:00
 
18:00
Adoration
Wed. 6th July

St Maria Goretti

08:00
 
10:00
 
Thu. 7th July

St Maelruain

08:00
Colomb Charles Noyon – RIP
10:00
Fri. 8th July

St Killian

08:00
 
12:00
Paulina Galvis – RIP
Sat. 9th July

Ss Augustine Zhao Rong and Companions

08:00
 
09:00
Adoration and Benediction
 
10:00
Second collection next weekend for Sea Sunday (Stella Maris). It is a day people come together to pray for seafarers and fishers and thank them for the vital role they play in all of our lives.
Funeral Mass:  Anne L. on Friday 08th July at 10 am.
————————————————————————————-Sunday Mass Obligations:
With the ease of almost all the lockdown regulations, the Catholic Bishops Conference of England and Wales have decided to reinstate the Sunday Obligations. This means that every Catholic is expected to attend Mass in Church on Sunday. However, those who, as a result of age, poor mobility, sickness or any other tenable reasons, are unable to be physically present are exempt. Full explanation on our website. Welcome Home!
————————————————————————————-We welcome feedback regarding the size of the newsletter.
If you would like an item to be included in the newsletter, you need to supply the notice to the Parish Office by Wednesday Midday. Items are included or may be edited at the discretion of the Parish Priest. Thank you.
————————————————————————————-Holy Communion for those who are housebound.
Holy Communion at Home can be offered to any Catholic who cannot attend Church because of their own infirmity, or because they cannot leave the house due to caring for others. If you or someone you know, would like Holy Communion at home, or simply to be visited, please get in touch with one of the priests.
---
————————————————————————————-Synod 2023.
Anyone with ears to hear should listen and understand! (Matt 11:15). Pope Francis has initiated a listening process for discussion in 2023. Holy Cross has already contributed to this. We need now to discuss the feedback the Diocese received from all the parishes. More importantly we should meet to help fulfil this listening process at 'home' in Holy Cross. Summaries of responses from the listening phase can be found on the website.
https://holycrosscarshalton.co.uk/synod-2023/
https://www.rcsouthwark.co.uk/media/n0vfb2my/southwarksynthesis_final.pdf
You are invited to our parish's meeting on Sunday July 10, 2022, 4:30 – 6:15 pm in the parish centre. Please do consider contributing to this and put the date in your calendar now.
————————————————————————————-Tea & Coffee after Mass
You are all invited to have Tea & Coffee every Sunday after the 09.30 am Mass and every Thursday after the 10 am Mass in the Hall.
————————————————————————————-A Thank you note from Little Sisters of the Poor.
We would like to thank you all for your generous donation, we are most grateful to you for your kindness. Be assured that all your intentions will be remembered in our daily prayers. Thank you.
————————————————————————————-Missio Red Box collections
Please pick up your new envelope from the Church Porch and empty your box. Return the envelope to the Sacristy or post to the Church letterbox by the weekend of 16th/17th July. As ever your support is appreciated and so much needed.
Thank you kindly – Alex F.
————————————————————————————-Encountering the Relics of St Bernadette
In September and October this year, the relics of St Bernadette will journey on pilgrimage to England, Scotland, and Wales for the very first time. This very special once in a lifetime event will provide an opportunity for people of all ages and backgrounds to experience the special gifts and charisms of Lourdes, in a church or cathedral near them. Details on how to register and other venues: https://stbernadette.org.uk/the-tour/
Westminster Cathedral:
Arrive -11:00: 03/09/2022   Depart – 09:30: 05/09/2022
————————————————————————————-The Universe Catholic Weekly: Digital 4 weeks FREE trial
The Universe Catholic Weekly is thrilled to announce that we have launched our new online newspaper with the full support of our first subscriber none other than His Eminence Cardinal Vincent Nichols. Order your Digital 4 weeks FREE trial supply by calling Michelle on 0743 661 7650 or email: michelle.jones@universecatholicweekly.co.uk
————————————————————————————-
COVID-19 Precautions at Holy Cross – July. 22 UPDATE
-GEL YOUR HANDS / – WEAR A MASK
Any people displaying symptoms of Covid-19 should stay at home and not participate in acts of worship in church but online.
Everyone over the age of 10 is required to wear a facemask in the Church precincts at all times.
Hand sanitisers are available for all to use at places of entry and exit to our church.
Holy Communion is to be received in the hand. Those who wish to sing are encourage to keep their face coverings while singing. Doors and windows are being kept open to provide necessary ventilation to limit the spread of the virus; please leave them open. More information on the Parish Website and Church doors.
————————————————————————————-Vincentian Volunteers are Christian young people aged 18-35, from all over the world, who commit a year of their lives to the service of vulnerable people. During their year with us, they live in a community of three or four people and engage in voluntary work in partnership with other, well known charity organisations in order to help the impoverished, the homeless, the disabled, refugees and those suffering with addictions within the local community. We are still recruiting for 2022/23 (September 2022 to July 2023) for more details visit: https://www.vincentianvolunteers.org.uk/