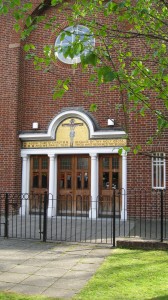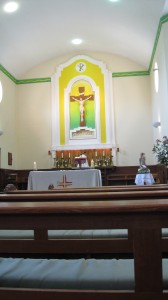 Holy Cross Catholic Church
46 North Street, Carshalton, Surrey, SM5 2JD
Parish Priest Fr. Henry Tiku Wenna
Resident Priest Fr. Philip Pak
Tel: 020 8647 0022
Email: carshalton@rcaos.org.uk
Go to mcnmedia.tv or follow the link on the Home page for live streaming 
Please see below and on the Home page for details  regards Covid.
Streaming is available all the time. Let us pray for each other, for everyone in Carshalton, and for all who are affected by the corona virus – including our NHS workers.
————————————————————————————EIGHTEENTH SUNDAY
Sat.30th July

St Peter Chrysologus

18:30
 
Sun. 31st July

Saint Ignatius of Loyola

08:00
09:30
Keith Sorrill – RIP
11:00
Clem Galvis – RIP
18:30
Mon. 1st August

St Alphonsus Liguori

08:00
10:00
Deborah Turbitt – RIP
Tue. 2nd August

Ss Eusebius Of Vercelli and Peter Julian  Eymard

08:00
10:00
 
18:00
Adoration
Wed. 3rd August

 

08:00
 
10:00
Malcolm McEwen Charlish – RIP
Thu. 4th August

St John Mary Vianney

08:00
10:00
Fri. 5th August

 

08:00
 
12:00
Carole T and Family

Assistance and protection

Sat.6th August

Transfiguration Of the Lord

08:00
 
09:00
Adoration and Benediction
10:00
Second collection for Hymn Books
Thank you to those responsible for getting the new hymn books and more recently for the donation of the protective covers that have been put on them. "A very practical idea which should keep them in a reasonable condition for longer." (From a parishioner)
Parish Office closed during the month of August. The priests will be available for urgent matters only.
————————————————————————————-Please not that all school forms will be signed from September.
 ———————————————————————————Holy Communion for those who are housebound.
Holy Communion at Home can be offered to any Catholic who cannot attend Church because of their own infirmity, or because they cannot leave the house due to caring for others. If you or someone you know, would like Holy Communion at home, or simply to be visited, please get in touch with one of the priests.
————————————————————————————-
Visit of Fr Gerard Bradley and Induction Mass Sat, 10th Sept At 6.30pm. The Episcopal Vicar Fr Gerard Bradley will be visiting Holy Cross, Carshalton for the Induction Mass of the Parish Priest, Father Henry. Everyone is welcome.
————————————————————————————-Summer Break
The Folk Choir (9:30 Mass) are now taking a break for the summer holiday. We will be back in September – new members very welcome.
The 11am Choir will be taking a break during August.  We will return to singing the 11.00 Mass on Sunday 04 September, with practices resuming at 19.30hrs on Thursday 01 September.
 ———————————————————————————Confession Time: Saturdays from 10.30am to 11.15am; 5:45pm to 6:15 pm.
————————————————————————————-Young Catholic Adults (YCA) weekend on 7th – 9th Oct. 2022
retreat at Douai Abbey, with the Schola Gregoriana of Cambridge, who will be holding Gregorian Chant workshops.
All Masses will be celebrated in the Extraordinary Form.
Theme: "The Communion of Saints' prayer and veneration of relics."
Cost of the weekend: Prices start from £12 (come for the day), or £55 per person per night (residential).
Book as soon as possible, deadline 16th September 2022 as places are limited.
More information on: http://www.youngcatholicadults.co.uk
————————————————————————————————————————————————————————–
Parish-prison pilgrimage: Wed. 31st Aug. from 09:30 am at
St. Margaret of Scotland Catholic Church to HMPYOI Downview, to which parishioners of Holy Cross Catholic Church are warmly invited to join.  Please contact: Marie Norbury – 07581 194907 for more information or to let me know they'll be joining the pilgrimage – that will help with numbers for refreshments.
 ———————————————————————————Diocesan Lourdes Pilgrimage
The Southwark Diocesan Pilgrimage to Lourdes will take place between 19th and 26th August 2022. All invited. Details:
www.tangney-tours.com/pilgrimages/lourdes/catholicassociation
More information on the board in the porch.
————————————————————————————-Apprenticeship at the Archdiocese of Southwark
The Archdiocese of Southwark are seeking an apprentice to work within the Fundraising & Gift Aid team in their central offices (located Lambeth North).  If you, or someone you know, would like to earn a level 3 Business Administrator Standard whilst working within a hardworking and passionate team, supporting the work of the Catholic Church in South London and Kent, please find out more by visiting: https://www.rcaos.org.uk/fundraising/apprenticeship
————————————————————————————-The Archbishop's Certificate
The Archbishop's Certificate (ArchCert) is a 2-year online course for all in the Diocese who proclaim their faith to others: as evangelisers, catechists or adult formators.
It is a course for all wishing to know their Catholic faith more deeply no matter their stage in life. For further course details: https://aec.rcaos.org.uk/archcert
---
————————————————————————————-COVID-19 Precautions at Holy Cross – Aug. 22 UPDATE
-GEL YOUR HANDS / – WEAR A MASK
Any people displaying symptoms of Covid-19 should stay at home and not participate in acts of worship in church but online.
Everyone over the age of 10 is required to wear a facemask in the Church precincts at all times.
Hand sanitisers are available for all to use at places of entry and exit to our church.
Holy Communion is to be received in the hand. Those who wish to sing are encourage to keep their face coverings while singing. Doors and windows are being kept open to provide necessary ventilation to limit the spread of the virus; please leave them open. More information on the Parish Website and Church doors.