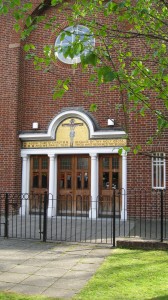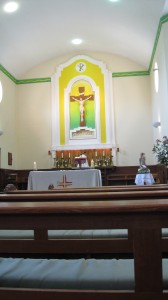 Holy Cross Catholic Church
46 North Street, Carshalton, Surrey, SM5 2JD
Parish Priest Fr. Henry Tiku Wenna
Resident Priest Fr. Philip Pak
Tel: 020 8647 0022
Email: carshalton@rcaos.org.uk
Go to mcnmedia.tv or follow the link on the Home page for live streaming 
Please see below and on the Home page for details  regards Covid.
Streaming is available all the time. Let us pray for each other, for everyone in Carshalton, and for all who are affected by the corona virus – including our NHS workers.
————————————————————————————SEVENTEENTH SUNDAY
Sat. 23rd July

Saint Bridget

18:30
People of The Parish
Sun. 24th July

 

08:00
09:30
11:00
18:30
Margaret Byrne – RIP
Mon. 25th July

St James, Apostle. Feast

08:00
10:00
Tue. 26th July

Ss Joachim and Anne, parents of the blessed Virgin Mary

08:00
10:00
 
18:00
Adoration
Wed. 27th July

 

08:00
 
10:00
 
Thu. 28th July

 

08:00
10:00
Jim Thomson – RIP
Fri. 29th July

St's MARY, Martha, and Lazarus

08:00
 
12:00
Sat.30th July

St Peter Chrysologus

08:00
 
09:00
Adoration and Benediction
 
10:00
Second collection for Hymns books this weekend
Thank you to those responsible for getting the new hymn books and more recently for the donation of the protective covers that have been put on them. "A very practical idea which should keep them in a reasonable condition for longer." (From a parishioner)
Confession Time: Saturdays from 10.30am to 11.15am; 5:45pm to 6:15 pm.
Parish Office closed during the month of August. The priests will be available for urgent matters only.
————————————————————————————-Holy Communion for those who are housebound.
Holy Communion at Home can be offered to any Catholic who cannot attend Church because of their own infirmity, or because they cannot leave the house due to caring for others. If you or someone you know, would like Holy Communion at home, or simply to be visited, please get in touch with one of the priests.
---
————————————————————————————-Change in our Archdiocese.
During the course of September, Bishop Paul will move from the south-west to Kent, which has not had an area bishop since 2018. Fr Victor Darlington will be episcopal vicar for the south-east area, and Fr Gerard Bradley will be episcopal vicar for south-west area.
————————————————————————————-Mount Sion Family Camp / 28th July – 31st July 2022
"The house of God; the gate of Heaven" Genesis 28:17
The Family Camp is taking place from 3pm Thursday 28th July until 3pm Sunday 31st July at Sion HQ in Brentwood, Essex.
It is 3.5 days of time with family in a faith filled atmosphere, fun as a family and with other families, prayer, worship, formation and fellowship. A place where we discover more fully how to put God at the heart of our family lives. More information on https://sioncommunity.org.uk/family-camp/
————————————————————————————-World Day for Grandparents and the Elderly – 24 July 2022
Grandparents Passing on the Faith?
What practical steps can we take and what sort of conversations can we have which can help anchor our grandchildren's faith? Four online sessions starting Wednesday 3rd August running from 7:30 to 9pm will give you the answer. For more details please contact Lisette at: mflse@rcaos.org.uk
————————————————————————————-Altar Servers and Teens Summer Break – 2nd – 5th August 22
For altar servers and any teenagers who practice their catholic faith with regular mass attendance, boys and girls, aged 11-17, of the Southwark diocese. A well organised, fun, educational and prayerful week. It is a great opportunity to experience a packed programme of activities, with the faith being presented in imaginative ways, as well as the opportunity for fun and making new friends. The cost of the week is £199, which covers all accommodation, games, swimming and entrance into Thorpe Pk.
 ———————————————————————————For Cincia: The statue that you ordered is now available from the repository, after the 9.30 Mass on Sunday. Thank you.
 ———————————————————————————Apprenticeship at the Archdiocese of Southwark
The Archdiocese of Southwark are seeking an apprentice to work within the Fundraising & Gift Aid team in their central offices (located Lambeth North).  If you, or someone you know, would like to earn a level 3 Business Administrator Standard whilst working within a hardworking and passionate team, supporting the work of the Catholic Church in South London and Kent, please find out more by visiting: https://www.rcaos.org.uk/fundraising/apprenticeship
 ———————————————————————————St Mary's Catholic Nursery & Infant Schools:
Limited Nursery & Reception Spaces Available for September 2022
————————————————————————————-Prayer for Grandparents and the Elderly
Bless all Grandparents and the Elderly; keep them in Your care. Bless them with peace, health and healing. Reward them for their Faith and fidelity, for their work and goodness, for their love and thoughtfulness, for their gifts and prayers. Give them a long and happy life together. May old age come to them in the company of family and friends. And when life is over, unite them again, where parting will be no more, in the Kingdom of Your love. We ask this through Christ our Lord
————————————————————————————-
COVID-19 Precautions at Holy Cross – July. 22 UPDATE
-GEL YOUR HANDS / – WEAR A MASK
Any people displaying symptoms of Covid-19 should stay at home and not participate in acts of worship in church but online.
Everyone over the age of 10 is required to wear a facemask in the Church precincts at all times.
Hand sanitisers are available for all to use at places of entry and exit to our church.
Holy Communion is to be received in the hand. Those who wish to sing are encourage to keep their face coverings while singing. Doors and windows are being kept open to provide necessary ventilation to limit the spread of the virus; please leave them open. More information on the Parish Website and Church doors.