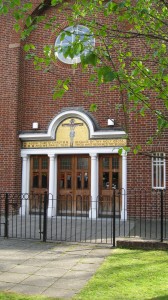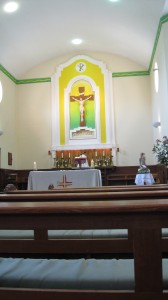 Holy Cross Catholic Church
46 North Street, Carshalton, Surrey, SM5 2JD
Parish Priest Fr. Henry Tiku Wenna
Resident Priest Fr. Philip Pak
Tel: 020 8647 0022
Email: carshalton@rcaos.org.uk
Go to mcnmedia.tv or follow the link on the Home page for live streaming 
Please see below and on the Home page for details  regards Covid.
Streaming is available all the time. Let us pray for each other, for everyone in Carshalton, and for all who are affected by the corona virus – including our NHS workers.
————————————————————————————
FIFTEENTH SUNDAY
Sat. 9th July

SS AUGUSTINE ZHAO RONG AND COMPANIONS

18:30
Anne Laurie – RIP
Sun. 10th July

Sea Sunday

08:00
Brian Flannery
09:30
11:00
18:30
People of the Parish
Mon. 11th July

Saint Benedict

08:00
10:00
Tue. 12th July

Saint John Jones

08:00
10:00
 
18:00
Adoration
Wed. 13th July

Ss Mildred and Henry

08:00
 
10:00
 
Thu. 14th July

St Camillus de Lellis

08:00
10:00
Fri. 15th July

Saint Bonaventure

08:00
 
12:00
Sat. 16th July

Our Lady of Mount Carmel

08:00
 
09:00
Adoration and Benediction
 
10:00
Family Theriault -Thon
Second collection for Sea Sunday (Stella Maris). It is a day people come together to pray for seafarers and fishers.
————————————————————————————-Sunday Mass Obligations:
With the ease of almost all the lockdown regulations, the Catholic Bishops Conference of England and Wales have decided to reinstate the Sunday Obligations. This means that every Catholic is expected to attend Mass in Church on Sunday. However, those who, as a result of age, poor mobility, sickness or any other tenable reasons, are unable to be physically present are exempt. Full explanation on our website. Welcome Home!
————————————————————————————-Tea & Coffee after Mass
You are all invited to have Tea & Coffee every Sunday after 09.30 am Mass and every Thursday after 10 am Mass in the Hall.
————————————————————————————-Guild Of Stephen Mass 10am. Sat.16th July.
11 altar servers will receive their Guild medals and 1 will receive a 5-year service award. You are all invited.
————————————————————————————-Synod 2023, Sunday July 10, 4:30 pm.
You are invited to our parish's meeting on Sunday July 10, 2022, 4:30 – 6:15 pm in the parish centre. Please do consider contributing to this.
We need now to discuss the feedback the Diocese received from all the parishes. Summaries of responses from the listening phase can be found on the website.
https://holycrosscarshalton.co.uk/synod-2023/
https://www.rcsouthwark.co.uk/media/n0vfb2my/southwarksynthesis_final.pdf
————————————————————————————-Holy Communion for those who are housebound.
Holy Communion at Home can be offered to any Catholic who cannot attend Church because of their own infirmity, or because they cannot leave the house due to caring for others. If you or someone you know, would like Holy Communion at home, or simply to be visited, please get in touch with one of the priests.
————————————————————————————-"Save the Date"- UCM Quiz Night
UCM team is organising a Quiz night on the 15th of October at 7.30pm. More information on the board.
————————————————————————————-
COVID-19 Precautions at Holy Cross – July. 22 UPDATE
-GEL YOUR HANDS / – WEAR A MASK
Any people displaying symptoms of Covid-19 should stay at home and not participate in acts of worship in church but online.
Everyone over the age of 10 is required to wear a facemask in the Church precincts at all times.
Hand sanitisers are available for all to use at places of entry and exit to our church.
Holy Communion is to be received in the hand. Those who wish to sing are encourage to keep their face coverings while singing. Doors and windows are being kept open to provide necessary ventilation to limit the spread of the virus; please leave them open. More information on the Parish Website and Church doors.
————————————————————————————-Missio Red Box collectiors
Please pick up your new envelope from the Church Porch and empty your box. Return the envelope to the Sacristy or post to the Church letterbox by the weekend of 16th/17th July. As ever your support is appreciated and so much needed.
Thank you kindly – Alex F
————————————————————————————-Eco-Fair 22 – Monday 29th August2022
Request from Churches Together for your support for a stall at the coming Eco-Fair. Please check the board for more information.
————————————————————————————-
New to the Parish: If you are new to the parish or believe that your name and address are not known to the priests, please fill in one of the forms for new parishioners that you will find in the church porch
————————————————————————————-Altar Servers and Teens Summer Break – 2nd August – 5th August 2022
For altar servers and any teenagers who practice their catholic faith with regular mass attendance, boys and girls, aged 11-17, of the Southwark diocese. A well organised, fun, educational and prayerful week.
It is a great opportunity to experience a packed programme of activities, with the faith being presented in imaginative ways, as well as the opportunity for fun and making new friends. The cost of the week is £199, which covers all accommodation, games, swimming and entrance into Thorpe Park.
————————————————————————————-World Day for Grandparents and the Elderly – 24 July 2022
It will fall on the Sunday closest to the Feast of Saints Joachim and Anne, Grandparents of Jesus. The theme chosen by Pope Francis for this year's celebration is: "In old age they will still bear fruit" (Psalm 92:15). More information on https://www.catholicgrandparentsassociation.org/