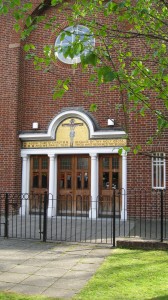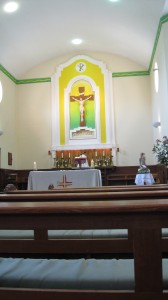 Holy Cross Catholic Church
46 North Street, Carshalton, Surrey, SM5 2JD
Parish Priest Fr. Henry Tiku Wenna
Resident Priest Fr. Philip Pak
Tel: 020 8647 0022
Email: carshalton@rcaos.org.uk
Go to mcnmedia.tv or follow the link on the Home page for live streaming 
Please see below and on the Home page for details of the next steps regards Covid.
Streaming is available all the time. Let us pray for each other, for everyone in Carshalton, and for all who are affected by the corona virus – including our NHS workers.
————————————————————————————-
Bank details (for anyone wishing to make an online donation:)
NatWest:  Acc. name: RCAS Holy Cross Church, Carshalton
Account: 11064943; Sort code:  60 22 20
————————————————————————————-
The Baptism of the Lord- Yr C
"Baptism is the basis of the whole Christian life, the gateway to life in the Spirit and the door which gives access to the other Sacraments." (CCC #1213)
Sat

8th Jan.

18:30
Caleb Walker-Healing and Recovery
Sun

9th Jan.

08:00
09:30
People of the Parish
11:00
Julia Ward-RIP
18:30
Mon.

10th Jan.

08:00
10:00
Tue.

11th Jan.

08:00
Ross D'Souza
10:00
Wed.

12th Jan.

08:00
10:00
No Mass
Thu.

13th Jan.

08:00
10:00
Fri.

14th Jan.

08:00
12:00
Sat.

15th Jan.

08:00
 
10:00
Erica-Birthday
CONTACTLESS DONATIONS      You will find our new "Contactless Donations Terminal" in the entrance of the church (on the righthand side of the porch). Just use your contactless (or PIN) debit/credit card or NFC smartphone to donate. Simply choose the amount you wish to donate and hold your card onto the reader. You can also opt-in for Gift Aid to increase your donation by 25%. If you are a UK taxpayer then donating with Gift Aid means that we can claim an extra 25p for every £1 received. "Contactless Donations" are simple to administer, secure and convenient. "Contactless Donations" will enable you to quickly and easily support the life and ministry of our parish. Thank you, once again, for your cooperation.
FIRST HOLY COMMUNION 2022: If your child is in Year 3 and above and you would like them to make their first holy communion in 2022 please register them by emailing their name, date of birth, home address and school attended to fhcholycross@gmail.com.  There will be a parents' meeting in the church at 7.30pm on 10th January.
BIBLE STUDY: "There will be no Bible study on 11th January. The next session will be on 25th January and will start at 7.30pm. Light refreshments will be available at 7.15pm. Session Four: Egypt and Exodus. Please read in preparation: Exodus 3, 7-10, 11-14, 32 Numbers 13-14, 25
Churches Together in Carshalton: The annual service for Christian Unity hosted by Churches Together in Carshalton will take place on Wednesday 19th January at 7.30pm at The Carshalton Methodist Church in Ruskin Road. After the service there will be a short Annual General Meeting to which all church members are invited. All are welcome.
 REPOSITORY: We have lots of items for sale. Candles, Cribs, Mass Cards and cards for all occasions, Books, Rosaries and lots more like "The 2022 Catholic Directories", available at £4 a copy thank you. Do come and take a look. We are open after 9:30am Mass every Sunday. Other times on request.
Growing in Faith Together consists of four one hour-long sessions via Zoom and is a wonderful opportunity for:
-engaged couples who have completed their marriage preparation course and want to continue exploring their faith together. -married couples to enrich their friendship and love.
There are two opportunities to attend the course. The first course runs on Tuesday evenings from 8-9pm beginning 18 January 2022 and the second course runs on Saturday mornings from 10.30-11.30am beginning 19 February 2022. Please visit:  https://aec.rcaos.org.uk/together
————————————————————————————-
 TO HELP STOP THE SPREAD OF COVID-19,
WE NEED YOUR ASSISTANCE!
-GEL YOUR HANDS
-WEAR A MASK
-KEEP A SAFE DISTANCE
COVID-19 Precautions at Holy Cross – December 2021 UPDATE
Everyone over the age of 10 is required to wear a facemask in the Church precincts at all times. Holy Communion is only to be received in the hand and singing by the Congregation is not permitted. Please observe any request to 'Please leave a space' by anyone who wishes to sit alone. Doors and windows are being kept open to provide necessary ventilation to limit the current spread of the virus; please leave them open. More information on the Parish Website and Church doors.
———————————————————————————————
Wednesday 12th January Due to work on the electrical supply to the Church and Parish Hall involving a shutdown of power it will not be possible to have the 10 am Mass.
Please also note that there will be no access to the car park on Tuesday 11th or Wednesday 12th.
———————————————————————————–
Remember those who died recently…

Remember to pray for the Sick and Housebound in the Parish…