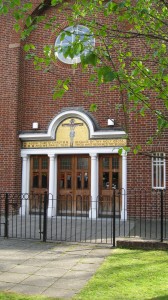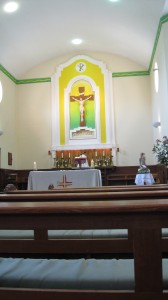 Holy Cross Catholic Church
46 North Street, Carshalton, Surrey, SM5 2JD
Parish Priest Fr. Henry Tiku Wenna
Resident Priest Fr. Philip Pak
Tel: 020 8647 0022
Email: carshalton@rcaos.org.uk
Go to mcnmedia.tv or follow the link on the Home page for live streaming 
Please see below and on the Home page for details of the next steps regards Covid.
Streaming is available all the time. Let us pray for each other, for everyone in Carshalton, and for all who are affected by the corona virus – including our NHS workers.
————————————————————————————-
Bank details (for anyone wishing to make an online donation:)
NatWest:  Acc. name: RCAS Holy Cross Church, Carshalton
Account: 11064943; Sort code:  60 22 20
————————————————————————————-
2nd Sunday of Christmas-Yr C
Happy New Year! May the New Year 2022 bring you happiness, peace and prosperity.
Sat

1st Jan.

18:30
Light of the Holy Spirit for the Guiho Family
Sun

2nd Jan.

08:00
09:30
People of the Parish
11:00
Cedric &Margaret Bellard, 50th Wedding Anniversary
18:30
Philippe Guiho – RIP

Pierre Numa- RIP

Mon.

3rd Jan.

08:00
10:00
Tue.

4th Jan.

08:00
10:00
Wed.

5th Jan.

08:00
10:00
Thu.

6th Jan.

08:00
10:00
Ebube- Birthday
Fri.

7th Jan.

08:00
12:00
Sat.

8th Jan.

08:00
 
10:00
Sophia Lobo- RIP
Note: on Thu. 6th Jan. is The Epiphany of the Lord (Solemnity)
THANK YOU: We thank all those who helped with the liturgy during the Christmas period: readers, sacristans, altar servers, choir members, Eucharistic Ministers, stewards and all volunteers in many different ways. And we express our thanks to all who do so much to ensure that our church is clean and tidy.
THANKS, FROM THE CLERGY FOR CARDS AND GIFTS RECEIVED: Father Henry, Father Luke and Father Philip wish to express their thanks for all the Christmas cards and gifts they have received. Your kindness is very much appreciated. Please accept these words as their personal 'THANK YOU' to you.
TO HELP STOP THE SPREAD OF COVID-19,
WE NEED YOUR ASSISTANCE!
-GEL YOUR HANDS
-WEAR A MASK
-KEEP A SAFE DISTANCE
 COVID-19 Precautions at Holy Cross – December 2021 UPDATE
Everyone over the age of 10 is required to wear a facemask in the Church precincts at all times. Holy Communion is only to be received in the hand and singing by the Congregation is not permitted. Please observe any request to 'Please leave a space' by anyone who wishes to sit alone. Doors and windows are being kept open to provide necessary ventilation to limit the current spread of the virus; please leave them open.
More information on the Parish Website and Church doors.
FIRST HOLY COMMUNION 2022: If your child is in Year 3 and above and you would like them to make their first holy communion in 2022 please register them by emailing their name, date of birth, home address and school attended to fhcholycross@gmail.com.  There will be a parents' meeting in the church at 7.30pm on 10th January.
CONTACTLESS DONATIONS
You will find our new "Contactless Donations Terminal" in the entrance of the church (on the righthand side of the porch). Just use your contactless (or PIN) debit/credit card or NFC smartphone to donate. Simply choose the amount you wish to donate and hold your card onto the reader. You can also opt-in for Gift Aid to increase your donation by 25%. If you are a UK taxpayer then donating with Gift Aid means that we can claim an extra 25p for every £1 received. "Contactless Donations" are simple to administer, secure and convenient. "Contactless Donations" will enable you to quickly and easily support the life and ministry of our parish. Thank you, once again, for your cooperation.
THE NEW YEAR OF 2022: Many of us have struggled as we had to face up to the difficulties and restrictions of Covid-19. Let's all pray that as we journey through 2022, we may find life getting back to what we think of as normal. We have missed many parishioners who have not been able to attend Mass because of their fears and situation during these past months. We look forward to welcoming you back to our church Holy Cross and Mass in the near future. Please continue to stay safe.
REPOSITORY: We have lots of items for sale. Candles, Cribs, Mass Cards and cards for all occasions, Books, Rosaries and lots more like "The 2022 Catholic Directories", available at £4 a copy thank you. Do come and take a look. We are open after 9:30am Mass every Sunday. Other times on request.
BUILDING A BETTER MARRIAGE
Here is a gift for husbands and wives, an opportunity to spend a morning online exploring and improving your relationship. It's for couples with average-to-good marriages who would like to make them a bit better. There is no group sharing.
The date: Saturday January 8, 9am–1pm. Booking is essential: phone 07983 524 727 or  mailto:mflkent@rcaos.org.ukThere is a nominal charge of £10 per couple.
Remember those who died recently…

Remember to pray for the Sick and Housebound in the Parish…