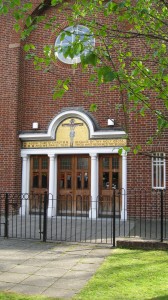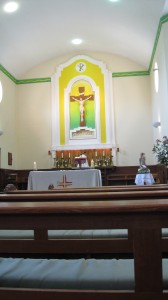 Holy Cross Catholic Church
46 North Street, Carshalton, Surrey, SM5 2JD
Parish Priest Fr. Henry Tiku Wenna
Resident Priest Fr. Philip Pak
Tel: 020 8647 0022
Email: carshalton@rcaos.org.uk
Go to mcnmedia.tv or follow the link on the Home page for live streaming 
Please see below and on the Home page for details  regards Covid.
Streaming is available all the time. Let us pray for each other, for everyone in Carshalton, and for all who are affected by the corona virus – including our NHS workers.
————————————————————————————-
5th  Sunday of Easter
 Sat. 14th May

ST. MATTHIAS

18:30
Teresa Rodrigues – RIP
Sun. 15th May

 

08:00
People Of the Parish
09:30
11:00
Dawn Pinkney – Wellbeing
18:30
Mon. 16th May

ST. Simon Stock

08:00
10:00
Tue.17th May

Day Of Prayer for Survivors of Sexual Abuse

08:00
Armel Seedayal-BD
10:00
 
18:00
Adoration
Wed. 18th May

ST. John I, Pope

08:00
Selvadasan Packiyanathar -BD
10:00
Thu. 19th May

ST. Dunstan

08:00
10:00
Fri. 20th May

ST.Bernardine Of Sienna

08:00
 
12:00
Father Henry – BD
Sat. 21st May

ST. Christopher of Magallanes

08:00
 
09:00
Adoration and Benediction
 
10:00
May Month of the Rosary of the Blessed Virgin Mary.
During May the Rosary will be said before the Mass.
Second Collection for Christian Aid this weekend.
————————————————————————————-Do You Feel Called?
If you feel God is calling you to be a priest, deacon or religious sister, or just thinking about it, please do speak to one of our priests. They would be very happy to listen to you and offer support and advice. No pressure!
————————————————————————————-Please can you help? Volunteers needed to:
– Help clean the church on Thursdays.
– Help to plan the Special Ministers rota every 2 months.
Please email: carshalton@rcaos.org.uk  Thank you.
————————————————————————————-Confirmation Mass – 25th of May at 7:30pm.
Bishop Paul Hendricks will celebrate the Sacrament of Confirmation for the many young people who have been preparing over these past months. The candidates need to be here by 7:00pm.  Please pray for our children.
————————————————————————————-BIBLE Study: Monday 23rd May 7.30pm
DVD and discussion: Romans: The Gospel of Salvation
"Romans reveals that salvation is not merely the removal of the guilty verdict: it is about entering into Christ's life, death and resurrection and sharing in His divine life."
"The Bible is at the heart of our Faith and our relationship with God. Much more than a book, it is a place where our Father comes to meet us and speaks to us with love" (Dei Verbum 21).
All welcome. to any or all the sessions in an informal relaxed atmosphere. Carshaltonparishbiblestudy@rcaos.org.uk
————————————————————————————-'The Spirit That Gives Us Life' John 6:63
The All Nations Catholic Charismatic Group invites all the people of the parish for the celebration of the feast of the Pentecost at St Andrews Church, Thornton Heath, Croydon on Sunday 5 June from 1pm onwards. The feast of Pentecost is an integral part of our Christian life. Our main celebrant will be His Grace Most Rev Archbishop Emeritus Kevin McDonald. In attendance as well are Rev Fr Francis Utotu and Rev Fr Mark Binang.  Let us come together to celebrate the birthday of our church.  Food and drinks will be provided after the Eucharistic celebration.  Please see the poster on the notice board for more information. Thank you.
————————————————————————————-Diocesan Mass Of Welcome For those Who Became Catholics On Easter Night.
There is an invitation across our Diocese, to those who became Catholics or received sacraments of initiation on Easter night this year, and to their sponsors/family The Mass will be celebrated at 12.30pm on Saturday 21st May at St George's Cathedral, Lambeth Road, Southwark, London, SE1 6HR. No booking.
---
————————————————————————————-Day Of Prayer for Eastern Christians: 22nd May 2022
The British Catholic charity Fellowship and Aid to the Christians of the East (FACE) is delighted to announce the International Day of Prayer for Eastern Christians, which will take place on the Sixth Sunday of Easter -22nd May 2022, with the participation of Christians from all over Europe, the Middle East, the Horn of Africa and India. More information on the board.
————————————————————————————Christian Aid Week 15th to 21st May
Hungry for Justice: The theme this year is centred on global poverty and in particular the situation in Zimbabwe where the struggle for survival is at crisis level. Drought starves and robs the people of the ability to grow food and they become hungry. Help alleviate their hunger by supporting Christian Aid Week.
Holy Cross is working with local churches to deliver donation envelopes in your area. Donations can also be made via the website www.christianaid.org.uk
---
————————————————————————————-
COVID-19 Precautions at Holy Cross – May. 22 UPDATE
-GEL YOUR HANDS / – WEAR A MASK
Any people displaying symptoms of Covid-19 should stay at home and not participate in acts of worship in church but online.
Everyone over the age of 10 is required to wear a facemask in the Church precincts at all times.
Hand sanitisers are available for all to use at places of entry and exit to our church.
Holy Communion is to be received in the hand. Those who wish to sing are encourage to keep their face coverings while singing. Doors and windows are being kept open to provide necessary ventilation to limit the spread of the virus; please leave them open. More information on the Parish Website and Church doors.