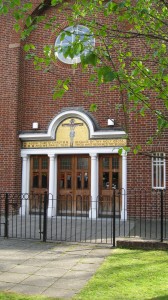 Holy Cross Catholic Church
46 North Street, Carshalton, Surrey, SM5 2JD
Tel: 020 8647 0022
Email: carshalton@rcaos.org.uk
Go to mcnmedia.tv or follow the link on the Home page for live streaming 
We are still under Government restrictions – please see the Home page for details of requirements
Streaming is available all the time. Let us pray for each other, for everyone in Carshalton, and for all who are affected by the corona virus – including our NHS workers.
————————————————————————————
Bank details (for anyone wishing to make an online donation:)
NatWest, Holy Cross Church, Carshalton;
Account: 11064943; sort code:  60 22 20
==================================================
Easter Sunday, Happy Easter!
Christ is risen indeed!
==================================================
The Octave of Easter
MASS TIMES
 on Mon:
08:00am
(Note: 10:00am: only for Easter Monday)
on Tue:
08:00
on Wed:
08:00
on Thu:
08:00 10:00
on Fri:
08:00am 12:00
on Sat:
08:00am 18:30 (Sunday vigil)
on Sun:
08:00   09:30   11:00   18:30
PARISH NEWS
Congratulations
on Chloe's baptism and Jamie's reception on the Easter Vigil Mass. May your baptism and reception be the solid foundation that anchors and supports your lifelong relationship with God. Congratulations on this milestone in your spiritual journey.
Next Sunday: Divine Mercy Sunday
"Jesus, I trust in you!"
Kathleen, you will be missed by many…
After over half a century of daily attendance at Holy Cross Church (sometimes three times on a Sunday!), Kathleen Snell has finally parked her mobility scooter for the last time.
Since breaking her femur at the end of last year, Kathleen had struggled to cope with an independent life in her maisonette; and so this icon of Holy Cross, one time sacristan, but never quite retired, finally left for a new life at St Peters Care Home in Vauxhall with the Little Sisters of the Poor.
She will be missed by many…but will now have the joy of daily mass in the chapel and contentment with Our Lord in the Eucharist which she sorely missed. Best wishes Kathleen.
-Philip Quinton
Fr. Luke and Fr. Philip wish you and all yours a "Happy Easter" and joy, healthy and meaningful Eastertide!
Thank you for your help!
Parish Choir, Altar Servers, Readers, Flower Ladies, Sacristans, Cleaning Team, Disinfection Team, … ALL…
May they rest in peace.
We remember those who died recently in our prayers, especially Fr. Paul Sanders, Ted Morton, Rita Gomez, Nick Roche, Ann Teresa Firmo…
Sick or in hospital?
Please tell Fr Philip of anyone in hospital. Thank you for keeping in prayer all who are sick.
New baptisms: Concerning preparations, contact Tim & Cherryl on cherrylhowlett @gmail.com  or Natacha on natachacrosdale@gmail.com