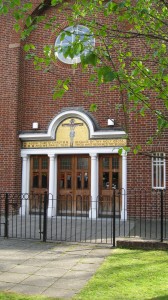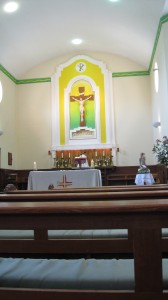 Holy Cross Catholic Church
46 North Street, Carshalton, Surrey, SM5 2JD
Parish Priest Fr. Henry Tiku Wenna
Resident Priest Fr. Philip Pak
Tel: 020 8647 0022
Email: carshalton@rcaos.org.uk
Go to mcnmedia.tv or follow the link on the Home page for live streaming 
Please see below and on the Home page for details  regards Covid.
Streaming is available all the time. Let us pray for each other, for everyone in Carshalton, and for all who are affected by the corona virus – including our NHS workers.
————————————————————————————-
2nd Sunday of Easter
Sat. 23rd April

ST GEORGE

18:30
Rodolfo Iuliano
Sun. 24th April

DIVINE MERCY SUNDAY

 

08:00
09:30
Martin – Healing-Wellbeing
11:00
Antoni Mistak – RIP
18:30
People of the Parish
Mon. 25th April

ST MARK

08:00
10:00
Mary J. Zinabala – Healing – W
Tue.26 April

ST CLETUS

08:00
10:00
 
18:00
Adoration
Wed. 27th April

ST. ZITA OF LUCCA

08:00
10:00
Thu. 28th April

ST LOUIS GRIGNION

08:00
10:00
Fri. 29th April

ST CATHERINE – SIENA

08:00
 
12:00
Sat. 30th April

ST PIUS V, POPE

08:00
 
09:00
Adoration and Benediction
 
10:00
 Collection Maintenance of Our Cathedral St George: This weekend. This collection helps meet the cost of its upkeep.
————————————————————————————-Divine Mercy Sunday, 24th April at St Margaret of Scotland
Service starts at 2.00 pm with the Exposition of the Blessed Sacrament and Mass at 3pm. All are invited.
————————————————————————————-Thanks for All Your Easter Cards And Gifts
The priests have received many kind Easter cards and gifts. These are very much appreciated. Please accept this as their personal thanks to you for your support and kindness.
---
————————————————————————————-Justice and Peace
The Dioceses and Ethnic Chaplaincies of Southwark, Westminster and Brentwood invite parishioners to a celebration of the annual Mass for Migrants on Monday, 2nd May 2022, at 2.30pm at Westminster Cathedral.  Banner procession starts at 2pm. The mass will be live streamed. The celebrant is Bishop Michael Campbell OSA. All are kindly invited to attend in person to celebrate the significant contribution made by migrants to the life of our Dioceses.
————————————————————————————-GIFT AID
Gift Aid envelope boxes for the new financial year (2022/23) are now available for collection in the church porch after weekend Masses.
Thank you to all members of the Gift Aid scheme which enables us to claim 25% from HMRC on all your donations to our parish.
If you are a UK taxpayer and would like to register for Gift Aid, please contact us by email carshaltongac1@rcaos.org.uk. Alternatively, you can download the Gift Aid form from our parish website and return it to us by email or drop it in the parish office.
If you are currently signed up to our parish Gift Aid scheme but you are no longer a UK taxpayer, please inform us by email carshaltongac1@rcaos.org.uk or via the parish office.
Please also let us know if you have changed your name or address details
————————————————————————————-Marriage preparation Course organised by Marriage Care in our parish. Marriage Care has been preparing couples for marriage in a Catholic Church for over 70 years. We also provide counselling services for couples experiencing relationship difficulties. Holy Cross will be hosting some Marriage Preparation days throughout the year. For further information please go to https://www.marriagecare.org.uk/marriage-preparation-2/
If you would like to help in any way please contact tim.howlett@marriagecare.org  or cherry.howlett@marriagecare.org
————————————————————————————
Special Ministers
Please collect your rota, which starts on the weekend of the 31st April/ 1st May, in the Sacristy. Thank you.
---
————————————————————————————-Funeral Mass
The Funeral Mass of Mr Rodolfo Iuliano takes place on Friday 13th May 2022 at 09.30am. We extend our sympathies to Rodolfo's family and friends.
————————————————————————————-
COVID-19 Precautions at Holy Cross – Mar. 22 UPDATE
-GEL YOUR HANDS / – WEAR A MASK
Any people displaying symptoms of Covid-19 should stay at home and not participate in acts of worship in church but online.
Everyone over the age of 10 is required to wear a facemask in the Church precincts at all times.
Hand sanitisers are available for all to use at places of entry and exit to our church.
Holy Communion is to be received in the hand. Singing is allowed and those who wish to sing are encourage to keep their face coverings while singing. Doors and windows are being kept open to provide necessary ventilation to limit the spread of the virus; please leave them open. More information on the Parish Website and Church doors.