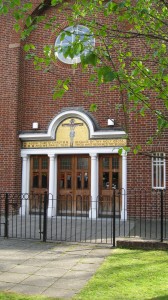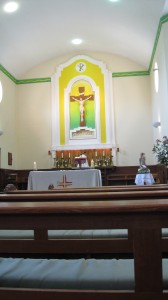 Holy Cross Catholic Church
46 North Street, Carshalton, Surrey, SM5 2JD
Parish Priest Fr. Henry Tiku Wenna
Resident Priest Fr. Philip Pak
Tel: 020 8647 0022
Email: carshalton@rcaos.org.uk
Go to mcnmedia.tv or follow the link on the Home page for live streaming 
Please see below and on the Home page for details  regards Covid.
Streaming is available all the time. Let us pray for each other, for everyone in Carshalton, and for all who are affected by the corona virus – including our NHS workers.
————————————————————————————-
5th Sunday of Lent- Year C
PALM Sunday of The Passion of The LORD
Sat. Vigil: 9th April

 

18:30
People of the Parish
Sun.10th April

Palm Sunday

Solemn Procession

08:00
09:30
11:00
Marjorie Alexander-Feveck – RIP
18:30
Annie Donna V. – Wellbeing
Mon. 11th April

 

08:00
10:00
Tue. 12th April

 

08:00
Baby Charlie Smith – Wellbeing
10:00
No mass due to a funeral
 
18:00
Adoration
Wed. 13th April

 

08:00
10:00
Bridget McDonagh – Wellbeing
Thu. 14th April

MAUNDY THURSDAY

08:00
Mass
10:00
No Mass
 
20:00
Mass
Fri. 15th April

GOOD FRIDAY

08:00
No mass
15:00
Good Friday service
Sat. 16th April

Holy Saturday

08:00
No mass
09:00
No Adoration and Benediction
Easter Mass Vigil
10:00
Easter food blessing, no mass
20:00
People of The Parish
HOLY WEEK – No Gloria or Alleluia during lent.
 Collection for Holy Places: 15th April
————————————————————————————-
No Confirmation preparation session on Tuesday the 12th and 19th April. Session will resume on the 26th of April at 7:30pm.
——————————————————————————-
 The film for Holy Week: Wednesday 13 April at 7.30 pm.
You are invited to see the film: Of Gods and Men in the Ruskin Hall. Admission is free but by ticket only via Ticket Source, Or by phoning the Box office: 07306 068670 (stating which film is to be booked: "Of Gods and Men").
————————————————————————————-
The Easter Food Blessing : Holy Saturday (16th April) at 10:30am. Everyone is welcome to bring their food from 10am.
Święconka (sh-vee-en-soon-kah)- the Easter Food Blessing is one of the most enduring and beloved Polish traditions. Baskets containing a sample of Easter foods (eggs, bread, ham, a figurine of lamb made of sugar or bread, salt and pepper) are brought to the church to be blessed on Holy Saturday. The baskets are traditionally lined with a white linen or lace napkin and decorated with ribbons and spring flowers.
————————————————————————————-
 Change in our bank account's name: 'RCAS Carshalton' Please note that from now, your cheques should be made out to 'RCAS Carshalton'. If you wish to make a direct bank transfer the details required now will be:
Account Name: RCAS Carshalton
Nat West: Account number: 11064943 – Sort code 60 22 20 Thank you.
————————————————————————————-
Retreat at the Sion Community, Brentwood – Beloved retreat for women, 22-24th April.
This a beautiful retreat, exploring our identity as the Father's beloved. Why not come along with a family member or friend for a very special weekend? More info and bookings can be found here: https://sioncommunity.org.uk/adults/
————————————————————————————-
 DIVINE MERCY Weekend Events
Divine Mercy Sunday is 24th April. The Divine Mercy Apostolate, will be leading a Pilgrimage -Preparation for Divine Mercy Sunday on Saturday 23rd April from 11am until 4pm at The Friars, Aylesford Priory, Aylesford, Kent, ME20 7BX. All are invited to attend this day of Preparation.
————————————————————————————-
 Ecumenical Pilgrimage: Oberammergau 27 May- 3 June 22: Please check the board more information.
————————————————————————————-
DETAILS OF OUR HOLY WEEK CEREMONIES By the newsletters you will find a coloured sheet giving details of our Masses, Services and Confessions during Holy Week. Please take one home and also take one for someone who you know may be interested.
————————————————————————————-
COVID-19 Precautions at Holy Cross – Mar. 22 UPDATE
-GEL YOUR HANDS / – WEAR A MASK
Any people displaying symptoms of Covid-19 should stay at home and not participate in acts of worship in church but online.
Everyone over the age of 10 is required to wear a facemask in the Church precincts at all times.
Hand sanitisers are available for all to use at places of entry and exit to our church.
Holy Communion is to be received in the hand. Singing is allowed and those who wish to sing are encourage to keep their face coverings while singing. Doors and windows are being kept open to provide necessary ventilation to limit the spread of the virus; please leave them open. More information on the Parish Website and Church doors.
———————————————————————————————
Easter Offering Envelopes are on the table in the porch.
The Easter Envelopes are used for the collection at Masses on Easter Sunday, which is the traditional 'Thank You' collection by parishioners to the priests of the parish for their work and service. Priests here receive no salary whatsoever for their work and depend on the generosity of parishioners for their personal income. Thank you for your generosity.
————————————————————————————-
 Good Friday Walk of Witness: Carshalton Christians walk together. Meeting at 11.30 a.m. on Friday 15th April at the entrance to Carshalton Park, in Park Rd. Walking through the park to Carshalton High Street and through to the Grove.
We gather for a prayer service outside The Grove house.
For more information on all these contact Alex Faircloth on faircloth@hotmail.co.uk or call 0208 770 3662.
————————————————————————————-
 Parking: Please remember to park your car at the back of the church and to not block the entrance of the gate. Many thanks.
————————————————————————————-
QUOTES for Lent: Pope Francis
When we sow seeds of goodness and kindness, "no matter how small," in our own lives, we radiate light and carry "the fragrance of Christ to the world."